3 Startups That Are Recycling And Showing How To Do Waste Management
?Nothing is waste and get the best out of waste' is the motto of these three startups - Scarpshala, Recycle India and Anthill creations. From recycling or reusing plastic bottles, rubber tyres, glass bottles to e-wastes, these three companies have tackled waste disposal of all kinds, in their own unique ways. Under the Swachh Bharat Abhiyan, along with open defecation and sanitation, waste management is part of the government's agenda. Members of these companies actually took upon the onus of reducing the burden of wastes on landfills and came up with innovative ideas to recycle garbage.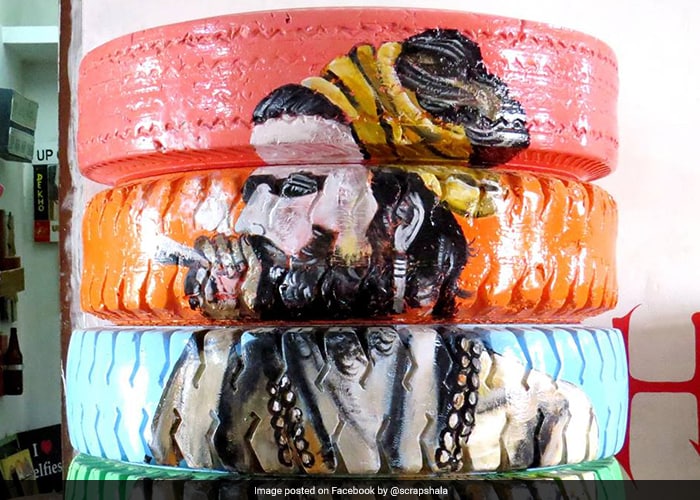 Scrapshala - The Key To Waste Management

28-year old Shikha Shah left her high paying job in IIT Chennai and returned to her hometown - Varanasi to start her startup, 'Scrapshala' in 2016. The startup deals in waste management by recycling or reusing old crap. Within a year, the company has successfully recycled more than 20,000 plastic bottles and around 10,000 kilograms of waste. "Spotting trash at every other corner in different parts of India is common but finding a solution that could be practiced at consumer level was exciting for me," says Shikha.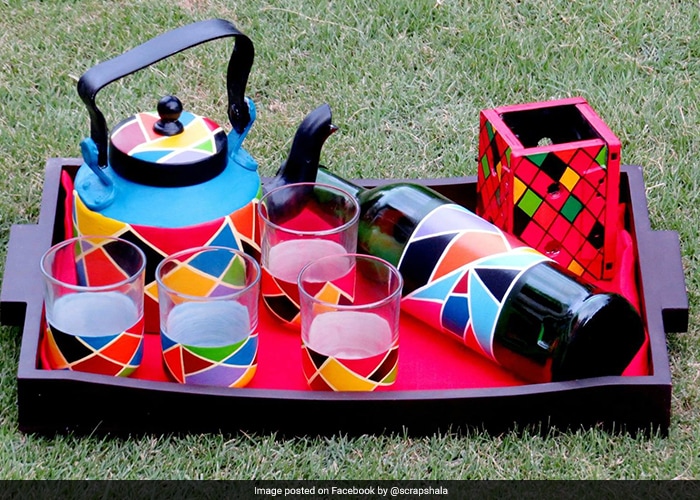 From Trash To Treasure

The company preaches and practices a zero waste lifestyle. It operates in two arenas - Product based (using trash and converting it into useful decorative pieces) and service based (fixing non-working items). The company is currently selling its recycled products to 15 online portals and is involved with more than 200 people offline.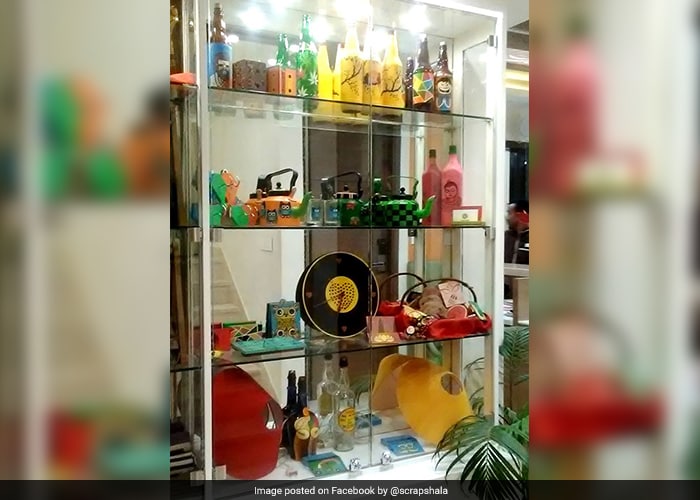 Best Out Of Waste

The company takes generally 2-3 days to convert garbage items into office accessories, upcycled games for kids, furniture, customised gifting products and home and garden decorations. Since Varanasi is the gem of textile industry, the company has recently gotten involved with textile waste as well. With 1.8 million tonnes, India is the fifth largest e-waste generator in the world. Scrapshala has also involved itself in recycling e-waste products like CDs into creative home decorative pieces.
The Journey Of Recycling 3000 Products

Shikha started by reusing her garbage or trash from her own house and later on she started acquiring trash from the municipal corporation. The 12 member company has recycled more than 3500 products and redecorated 6-7 cafes and restaurants out of ?trash goodies.' People from across India are now sending their trash items to the company for a makeover. The startup is also empowering local artisans and the aim of the company is to make people aware about the concept of zero-wastage lifestyle by reducing the overall waste generation.
Anthill Creations - Making Playgrounds Out Of Tyres

A group of IITians got together and formed the Anthill Creations in Bengaluru to use scrap tyres to build playgrounds for the underprivileged children. Since its formation in 2014 the company has successfully finished nine projects in four Indian cities and reused 830 scrap tyres to build playground and libraries. "One of our friends was interning with a Morocco based architectural organisation where recycling was adopted to great extent. That triggered us all to do something on recycling," says Pooja Rai, Co-founder and CEO of Anthill Creations in Bengaluru.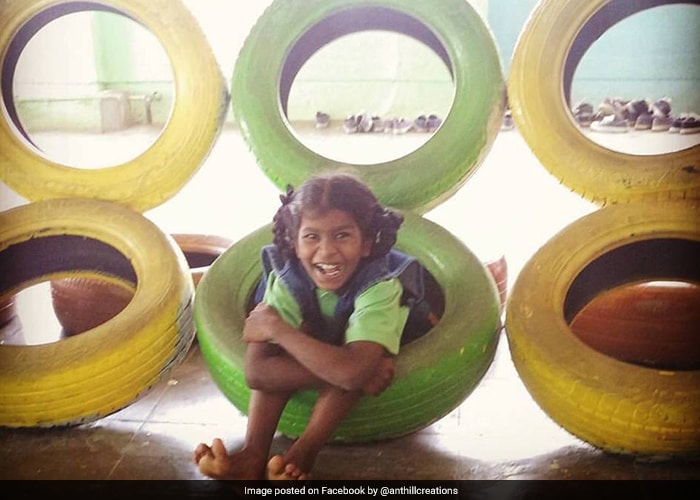 A Step Towards Green Future

The first low-cost eco-friendly playground was built at the Disha Seema Care centre which was located inside the IIT-Kharagpur campus. The co-founders follow the 'Do It Yourself' mantra, where they involve different communities and volunteers to help them in the construction. The team gathers tyres scrap from various companies and manufactures and asks them to sponsor low-cost playgrounds costing upto Rs. 20,000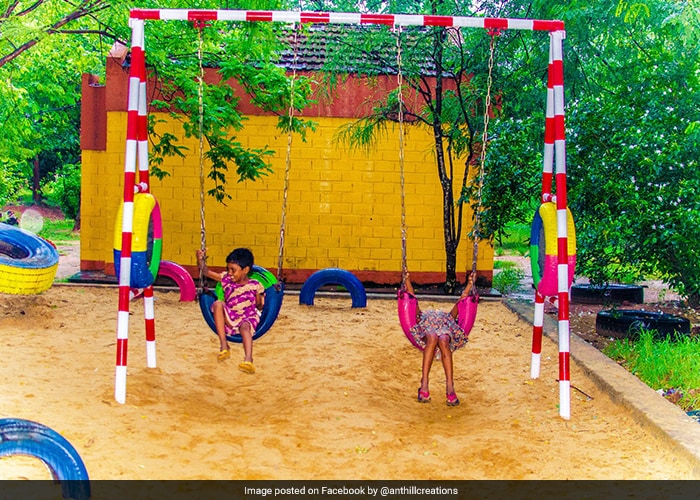 Spreading Awareness On Recycling

The company faced a lot of rejections and the idea was ridiculed by many. One of the main reasons is the lack of awareness about recycling among people. The company aims to expand their reach (where?) to promote the idea for recycling and reusing. Besides constructing playgrounds for children, the company also teaches them about the concept of recycling and sustainability. 'It is the right time to opt for recycling as there is a lot of buzz and awareness about the concept among people. Playgrounds made of scrap items are definitely a new concept, but we think India is ready for this innovation,' adds one of the founders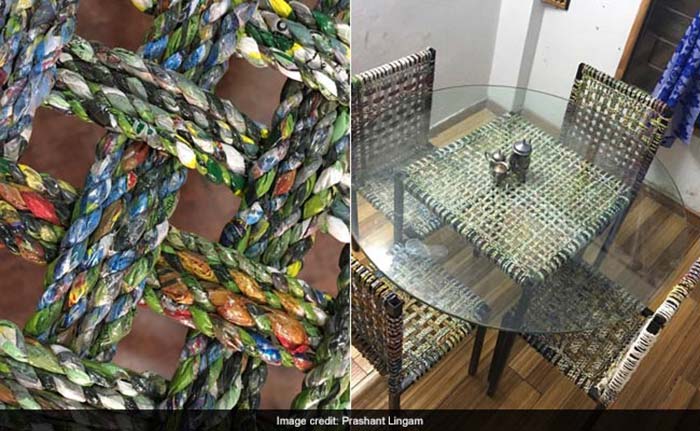 Reinvent India's ?Nothing Is Waste' Philosophy

Like Shikha, a Hyderabad based couple - Prashant Lingam and Aruna Kappagantula started the ?Recycle India' initiative in 2015 to follow the principle of three R's - Reduce, Reuse and Recycle. Within two years the couple went on to build a house, water tank and a shelter bus stop all made out of plastic bottles. Eight months back, the couple literally weaved ropes out of thousands of chips packets, tied them up onto a metal frame and created an entire dining table.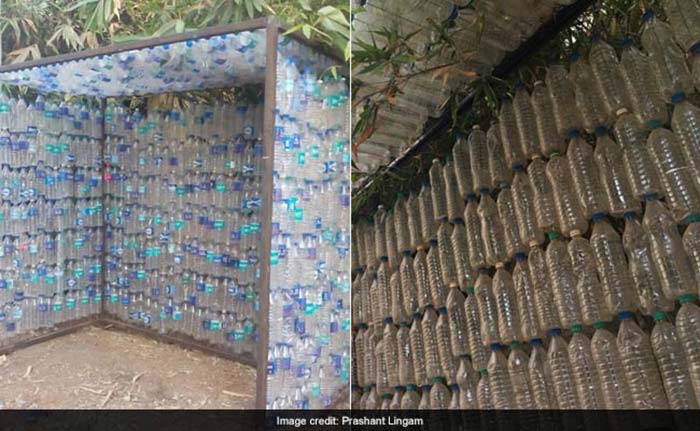 Passion For Plastics

To encourage the reuse of waste plastic bottles, Prashant and his wife Aruna constructed a house of bottles with 5000 plastic bottles and a team of 20 people in a month. A year later, the couple made a water tank out of plastic bottles bought from scrap dealers at ? 1.40 per bottle. As a pilot project, the couple recently built an entire bus shelter from 1000 plastic bottles. The couple will soon take the idea of building plastic bottled bus shelters across the city to the Greater Hyderabad Municipal Corporation.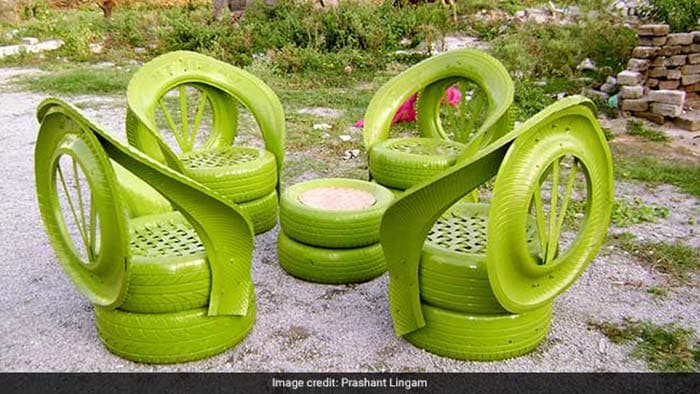 Recycling Municipal Waste

The startup also coverts municipal wastes like tyres and drums into bright and innovative chairs, tables, dustbins, flowerpots, etc. The couple is also working towards reducing the menace of litter by converting oil drums given by the municipal corporations into dustbins. Currently, the couple is in the process of developing furniture, especially chairs from cardboards that are usually abandoned from flex hoardings and donate it to the government schools. They are simultaneously working towards making ropes out of PET bottles.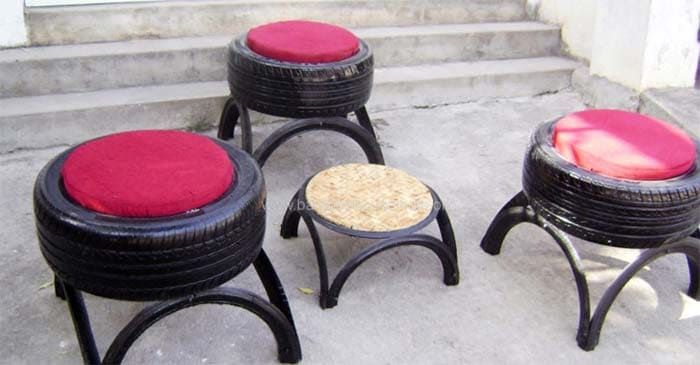 Conference Hall Out Of Bamboos

The GHMC is highly impressed by Recycled India's enthusiasm towards reducing waste generation and have given them a contract of building a 2,400 square feet eco-friendly conference hall with just bamboos. The startup aims at community participation in reducing waste generation and believes these creative and colorful recycled furniture and products are a great way to attract people's attention.