Meet T Venkataiah, for 16 years he has worked virtually every single day to keep the streets of Hyderabad clean. The 49-year-old sanitary worker will come in even on festivals and on his off day to ensure the area entrusted to him is clean.
[highlight]T Venkataiah was honoured by  Prime Minister Narendra Modi [/highlight] in Delhi for his hard work and was chosen the best sanitary worker in the country.
Mr Venkataiah, who has been working with the Greater Hyderabad Municipal Corporation, says he cannot think of rewards or awards. He must do what he needs to do.
I am very interested in my work. Earning a good name is important. Whoever inspects the place should say the street sparkles like a mirror, no garbage, no overflowing bins. It should all be neat – T Venkataiah
Venkaiah's determination and punctuality has finally paid him off.
Not only this, Venkaiah also educates the residents about solid waste management.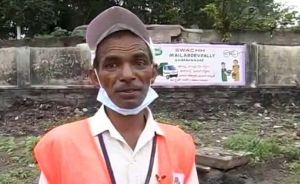 He lives with his wife and two sons, who would often mock him for not taking an off.
They would mock me saying do you get an award for which you never take an off and I would laugh it off," he said.
A local, Anantham, says Mr Venkataiah fully deserves the honour. "Even if a child tells him there is a dirty street, he will clean it up."
Anjaneyulu, Mr Venkataiah's supervisor at the civic body where is a contract worker, said they have to mark a weekly off in the register for all workers at least for legal reasons. "But he will come in and ensure the place looks good."
Medical officer Dr P Padma said achieving targets in a massive slum of Saibaba Nagar in Rajendra Nagar was not easy. Now it is a "100 per cent garbage-free area".
It is very difficult to achieve that target and for that, he is the person behind it, he is our real hero. – Dr P Padma
As a bonus, she said, Mr Venkataiah doesn't use alcohol or gutka or have any other addictive habits, which is quite unusual for sanitation workers.
Santosh Goud, president of the local residents' association, said, "He will inspire many more people. Not an easy feat to achieve."