Anju Dahiya, Haryana
Small hands can make a big difference. The little children learnt the importance of doing their bit through a skit on Mahatama Gandhi. The whole week was dedicated to the clean drive with involving the kids in cleaning of their toys , school , house . They also planted saplings and have been watering them each day to learn the importance of clean air to breathe.
Roseland Residency, Pune
Roseland Residency CHS Ltd Pimple Saudagar, Pune has implemented 3 way or 2bin1bag waste segregation at source (organic, recylable and reject), plastic and e-waste collection bin in campus to collect clean and dry plastic for recycling and e-waste for recycling. We also compost all garden waste and leaf waste in house and same compost is used for our gardens. These all initiatives are aimed to reduce waste going to landfills. We also have a STP plant which treats around 1 lakh ltrs of water and around 70% is used for gardening. We have also implemented Rain water harvesting and our society is tanker free for last 7 years. We have also installed around 2000 water saving faucet aerators in all flats. We have multiple awards to our name. We have also done extensive work in sparrow conservation and our society won the 2016 Wipro Nature Forever Sparrow Award for sparrow and environment conservation. We aim to be a sustainable and smart community and we have taken multiple initiatives as part of our contribution towards Swacch Bharat. We are also promoting composting of kitchen waste at home in our society and in our area through WhatsApp group and training sessions.
<iframe width="854" height="480" src="https://www.youtube.com/embed/0ejmxq_JpmU" frameborder="0" allowfullscreen></iframe>
Ajay Mittal, Kolkata
We are a group of young Swachhagrahi have chosen to opt out of our professional engagements to build a social enterprise that installs and maintains waste bins by monetizing them via advertising.
We have 100+ bins already installed and we are looking to growing fast. We are also in touch with the MoUD GoI and Swachh Bharat Mission for scaling our impact.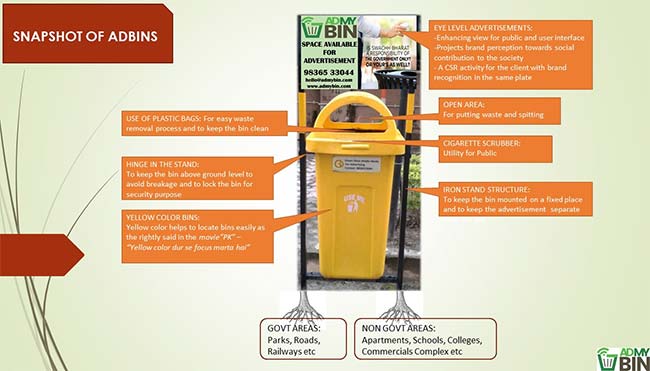 Bunch of Fools, Raipur

We are bunch of fools who don't think much before doing a job.Driven by heart and believes in "Ekla Cholo Re",we firmly believes in world's best slogan "हम सुधरेंगे युग सुधरेगा ".Inspite of preaching others,we believes in doing our work only. Only work No Publicity is our motto.

The purpose of using social media here is not publicity but having some valuable inputs from freinds all over the world and creating awareness among people.Here are some pictures and stories of how some of us tried to clean places of Raipur. Here we show how a place looked when there was litter all around and it looks after we clean. We also show some simple methods of how we can keep our nearby areas clean and hygienic, which can be adopted by any city.




Akshay Shinde, Pune
We cleaned various streets, ghats of Alandi, we also washed away the dirty walls, and are going to Paint them. Overall it was a Great Experience, the response of the Public was awesome, and can't be expressed in words. We conducted an Oath on the Ghats of Alandi, Pune to make Pune a Clean city. We all together can make India a Clean. If army can kill terrorists. We can at least kill dirt.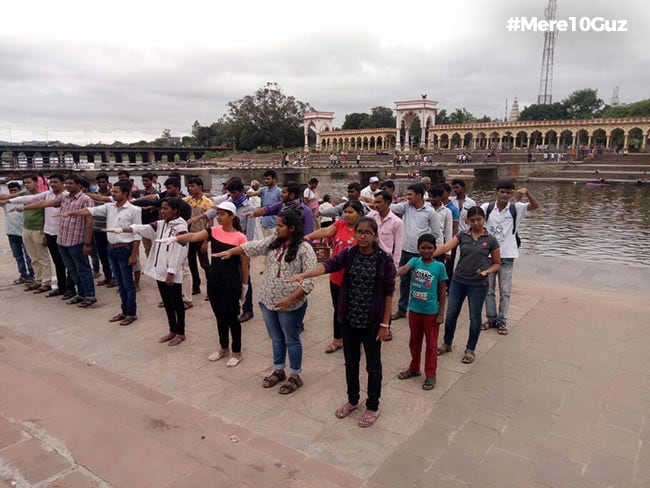 Abhishek Gupta, New Delhi

Organic Waste and Landfills one of the major pollutants and cause for Air Pollution. Clean India Ventures is manufacturing Green Waste Reprocessor (GWR) machine which is a Decentralized machine to process the Waste at the source of generation only.

GWR machine can be installed in Parks, Temples, Residential Societies, Townships, Vegetable Markets etc.

Within a short span of time, we have installed 8-10 projects in Delhi/NCR and at some prime locations in India. Our machine is working at Nirman Bhawan, Delhi, Nigambodh Ghat, New Delhi to name a few.

Within next 6-8 months, we aim to install more than 100 machines all over India.


Vimal Kant Jain, Ghaziabad
On Gandhi Jayanti in our Society Gulmohur Greens Mohan Nagar Ghaziabad, on the line of Clean India we celebrated Clean and Green Gulmohur Greens Mohan Ghaziabad. Members of Society took broom in hands and cleaned entire society of 700+ residents in 2 hours and also planted saplings of plants at various place. RWA took active part in it.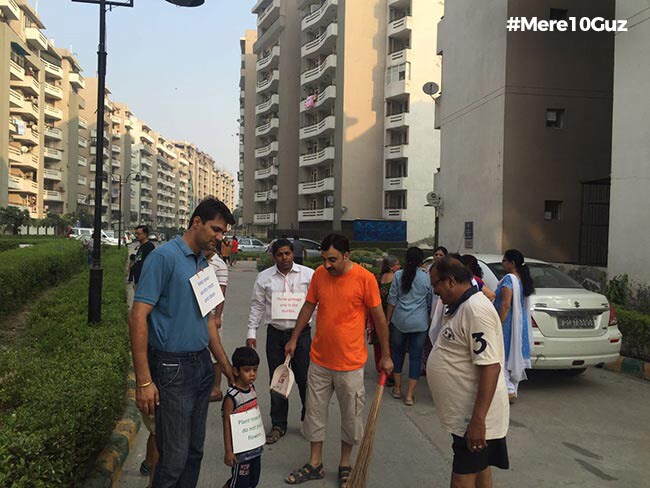 Toffique Ansari, Hazaribagh
Nai Kiran is engaged in Solid Waste Management.We are collecting door to door garbage in eight wards of Hazaribagh.We are collecting,segregating and making compost from municipal waste.Three types of municipal waste are collected- dry,wet and reject. Wet waste are used for compost making and dry are send for recycling through vendors and reject are send to landfill area.
School college awareness generation is regularly done by Nai kiran to promote segregation of waste at house hold level.We are using self made compost in our garden.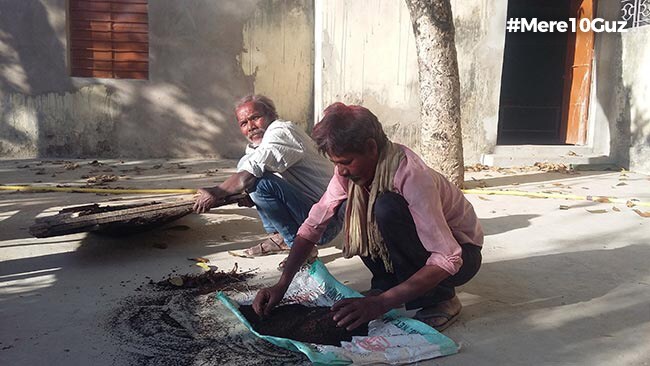 Shrigopal Jagtap
We started door to door waste collection system with special designed vehicle with Indore Municipal Corporation and collected waste at source segregation in some colonies and wards.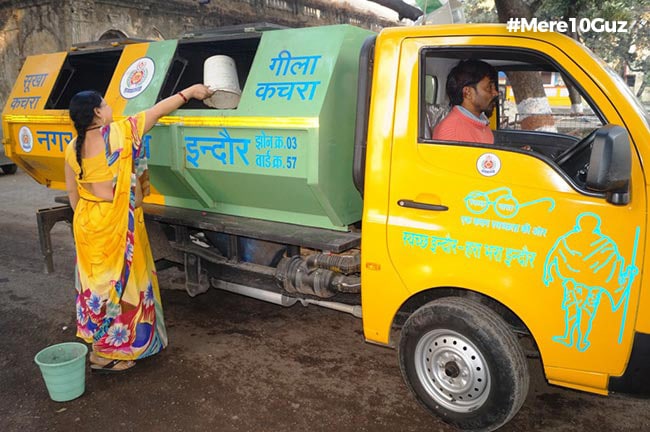 R.K. Yadav, Gurgaon
We stand proud to submit that we are working on swatch bharat abhiyan by adopting a counterpart by name of Swatch Sector Saturday Abhiyan, our sector (sector 46) is the biggest sector of Gurgaon with more than 3500 plots. When the current team was appointed in RWA we were already disgusted by cleanliness problem in our sector.
For countering this we initiated the Swatch Sector Saturday Mission on 28th November 2015 and from that day without any interruption we wake up early on our Saturdays and are joined by hundreds of residents who join the stride to clean our sector.
we felt discouraged when Authorities failed us to provide any kind of help whatsoever, still for achieving the bigger dream of our dear PM Narendra Modi ji and for our selfish(selfish enough for a cleaner India) selves we never stopped the mission and continued from the said date.
in the mission we learnt that mission or initiatives of this type are contagious from the time we started many RWAs and nearby sectors started following the drive. we feel grateful to our dear pm for showing us the path on which we walk proud.
Our Advice to all - Clean Your very near surroundings if everybody does so then only the mission will be achieved.
Swacchta is not the mission of only governments. It is a mission of all of us.

Rakhee Mehta, Mumbai
We read news about the Deonar dumping ground fire in 2016. The subsequent stories of health issues that the locals faced compelled us to think of ways to deal with the grave issue of piling waste in the city. That's when Marathon Realty Ltd (Real estate developers) who also happens to be a member of CREDAI Clean City Movement (CCCM) adopted the Bio bin system for treating organic kitchen waste in one of its own building named Marathon Onyx. The system uses microbes to convert the waste into compost. This is a very modern,highly effective and quick method of composting green waste. We have successfully composted 5,500 kgs of green waste in the past one year. The resulting compost is nutrient rich and is used for landscaping purposes within the premises.
We conducted an awareness program in the society where we educated the residents to segregate the waste using the three bin system. We have recycled more than 1000 kgs of dry waste till date. The efforts, enthusiasm and support of the residents is commendable.
As a responsible citizen of the country,we would like to spread awareness about this initiative through your channel.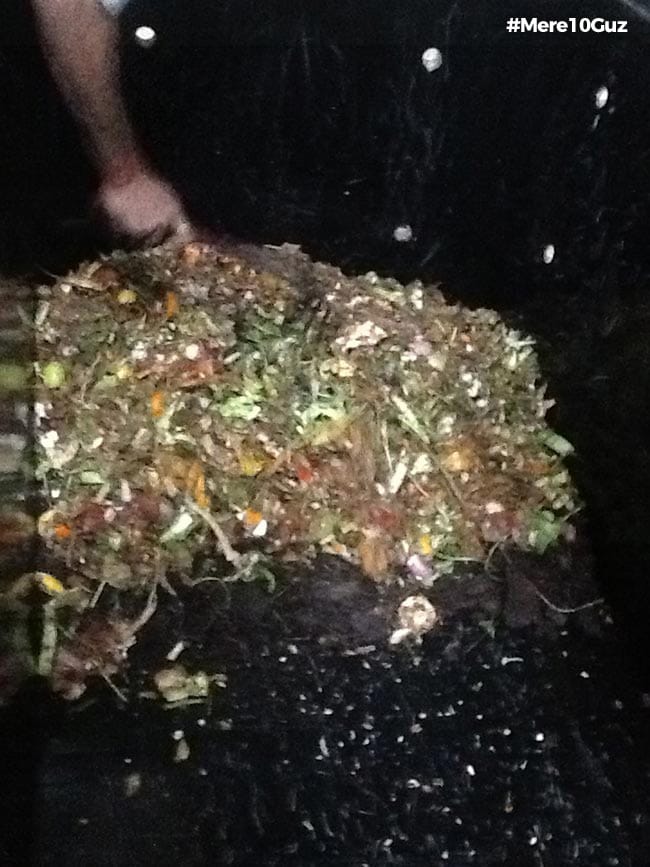 Rajkumar Dugar, Bengaluru
The Vasantnagar Welfare Residents Welfare Association(R), Bengaluru organised a community cleaning drive on 2nd Oct - Gandhi Jayanti in collaboration with the Corporator, Mr. Sampat Kumar and BBMP. The program included felicitation of the Pourakarmikas, demonstration of conversion of wet waste to compost, demonstration of usage of poop scooper, awareness campaign for the shopkeepers and eateries as well as cleaning up of the entire stretch of 8th Main Road, Vasantnagar.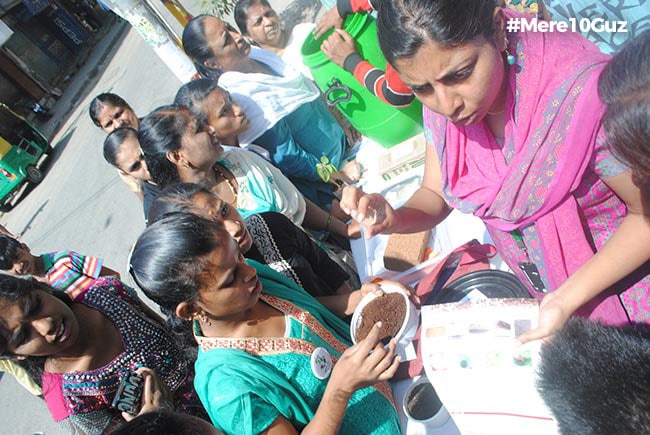 Prakash Bhagwan, Bengaluru
I have adopted a blackspot nearby my house. Garbage gets continuously dumped here on this piece of footpath making people to walk on the road. Apart from pedestrian safety, it is also health hazard breeding mosquito's which could spread dengue. I adopt the use of a tarpaulin sheet to separate the footpath from the road, so that the dumping does not encroach the footpath and people can use the footpath safely. The footpath leads to a playing ground and hence a lot of children and senior citizens use it.
The footpath is hence very critical and cannot be neglected. The tarpaulin separation is self funded and I make sure that I maintain it so that the pedestrians get there space and health hazard is avoided. Today it was the 6th time I mended it with the help of our security watchman Pushkar. We are proud of our efforts. Photo attached shows our cleanliness campaign done today.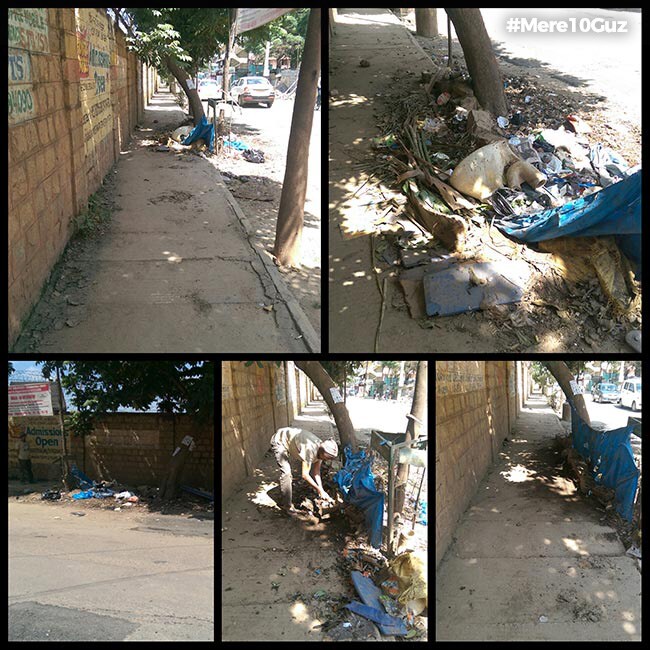 Mir Foundation Trust, New Delhi
MIR Foundation Trust is Regd. in 3rd Oct.2015 and doing work on Health, Hiegeine and Education for poor chidlren.
In Okhla Constituency we are Running a Safai Campaign on the name of ''CLEAN OKHLA MISSION'' with help of Local citizens, RWA's, our Volunteers and some times with MCD also involved in our campaign and this campaign will be continue until we get target to Clean Okhla in all ways.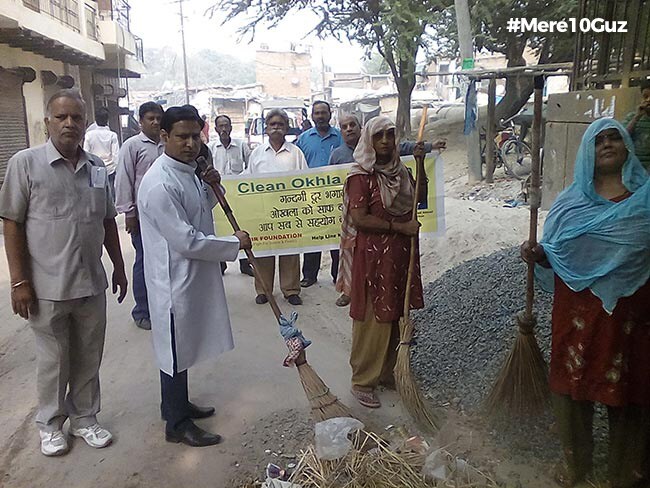 Manu Dafaali, Pithoragarh
Thanks for taking the initiative for a Clean India. We are a small group of volunteers of Harela society, from Pithoragarh, Uttarakhand who are doing regular clean ups in some of the tourist hotspots of our city. One such place is Chandak, where since Jan 2014, we had done more than 45 clean up events, involving more than 15000 people. Through these clean ups, we managed to collect more than 200 quintals of inorganic waste.
Today on 2 October, we cleaned more than 10 Km area, which includes forest and hilly slopes, at Chandak Pithoragarh. There were more than 900 students, we collected almost 200 quintals of segregated waste.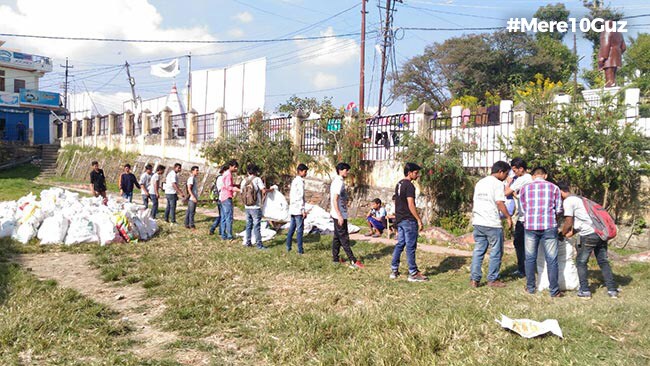 Lalitha Mondreti, Bengaluru

Swachagraha is a campaign ideated and executed by Solid Waste Management Round Table, Bangalore, inviting citizens and institutions to take a one-week pledge and challenge themselves against sending their organic waste to landfills. From there on, a guided discovery begins which will transform the way you looked at and treated your organic waste all this while.

To start with, you will learn to create three Green Spots-to compost, to grow an organic kitchen garden and to cook safe and healthy food with the ingredients harvested from the same. You could join the campaign as an individual, a family, an organisation, a school, a corporate or just anyone else.

More than 50,000 have taken the challenge and workshops promoting the campaign continue all over the country.



Kushal Devi, Bhadohi
"मैं ग्राम प्रधान उमापुर अपने गॉव को स्वच्छ बनाना चाहते है।
हम अपने गॉव में 270 शौचालय,नाली सफाई,प्राथमिक स्कूल शौचालय व किचन,20सोलर लाइट,सभी हैंडपंप की चबूतरा,सफाई का कार्य करवा दिए है।
हम अपने गॉव को एक मॉडल गॉव बनाना चाहते है लेकिन बजट की कमी के कारण ऐसा बहुत ही मुश्किल लग रहा है।
हो सके तो हमारी मदद करे।
कुशल देवी
ग्राम प्रधान
उमापुर औराई
भदोही
221306
9984998442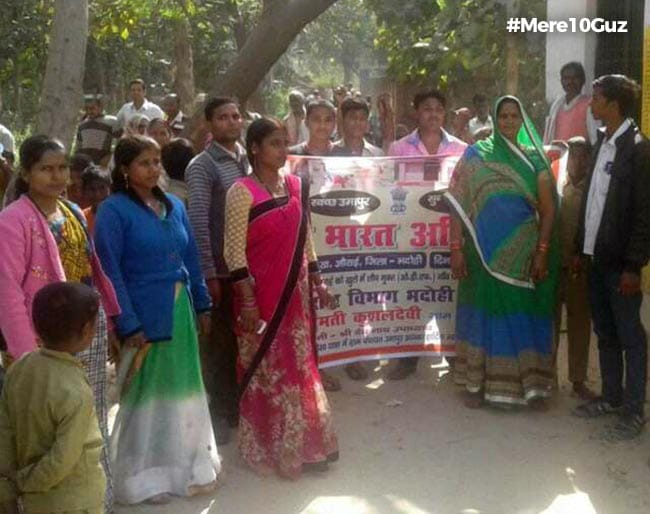 Joy Pansari, Kolkata
Taking the cue and the legacy of a clean society forward, we, Joy and Ankit started Ad My Bin, a social venture to clean and spread cleanliness across by installing adbins for waste disposal.
At Admybin we not only address the problem of littering but we create the infrastructure of visible and accessible bins all over the nation we also take responsibility of the management and clearance of the bins. We generate employment for currently unorganized ragpicker community at the same time and our aim is to segregate waste for gradually reducing it to zero.
AdMyBin installs Waste Bins with stands that have advertising spaces.
The National Clean India mission has created great awareness among people but due to lack of adequate usable dustbins problem of littering on street is not solved. Usually we associate bins with a dirty container but for us at Ad My Bin, we ensure that bins have an artistic implication with a bright sunny and blue dash of colour where you can advertise your company and reach out to people and also promote social awareness towards cleanliness as a responsible citizen.
We have created a self-sustainable model wherein the dustbins will act as an advertising mode just like a pole kiosk or advertisement hoarding. Our Business model includes the CSR activities of corporates and outdoor advertising needs of brands to get visibility as well as a enhancing the brand image as a socially responsible business.
What makes us different is that apart from the installation we take care of the maintenance of the bins as well. We employ ragpickers for every 30 bins which we install on streets.
Ad My Bin currently has more than 200 installations across different complexes, roads, schools, colleges and parks in Kolkata and further looking for expansion on metro, railways and everywhere in country where bins are required.
We have branded for more than 20 clients across sectors including banks, hotel chains, film production houses, online supermarkets, textile houses, healthcare, travel, online learning portals among others.
We are developing a Smart Bin, in which we would be able to track the waste level inside the bin, along with the count of people crossing the adbins. The pilot testing for this is done and will launch this very soon.
Also we are developing a WiFi Bin which would be a app based reward program for public at large. The technology will make our Adbins the Gateway to FREE Wifi access.
In pipeline we have Jaipur and Guwahati for expansion along with high coverage in Kolkata.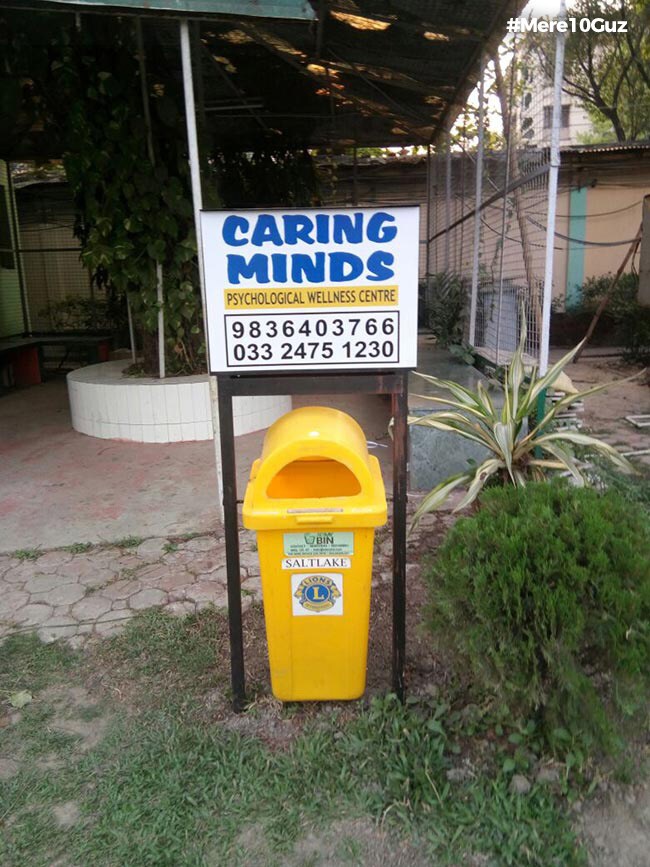 Heritage Girls School, Udaipur
With brooms in hand & sense of responsibility towards the nation, girls of Heritage Girls School stepped out of the campus & headed toward the 10th century Sas Bahu Temple for Swachh Bharat Mission.
#CleanIndia #SwachhBharat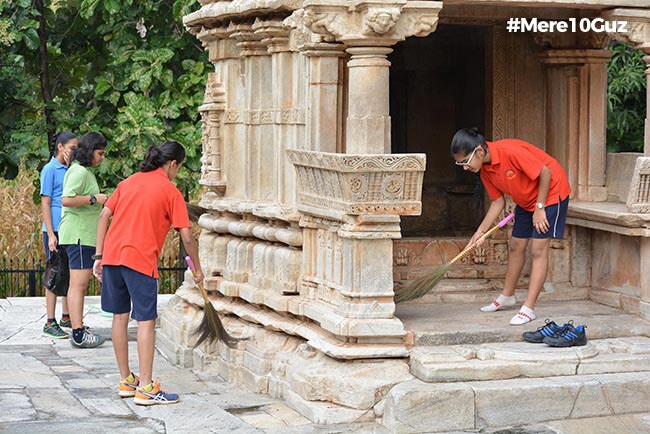 Health and Humanity Welfare Society, New Delhi
Our NGO - Health and Humanity Welfare Society conducted cleanliness drive at Indirapuram. The park in front of Amrapali Village society was chosen for this and the entire activity was conducted for 3 hours.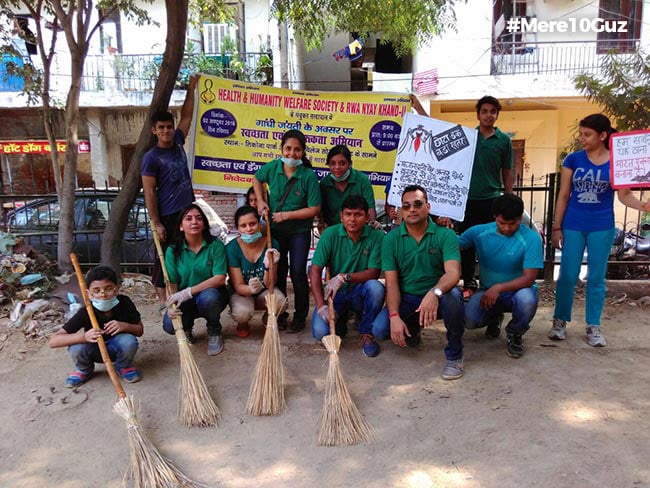 Gunjan Kumar, Bengaluru
Team Formule1 Bengaluru Whitefield takes pride of cleaning the surroundings and taken oath to keep this initiatives & country's ambitious cleanliness drive alive.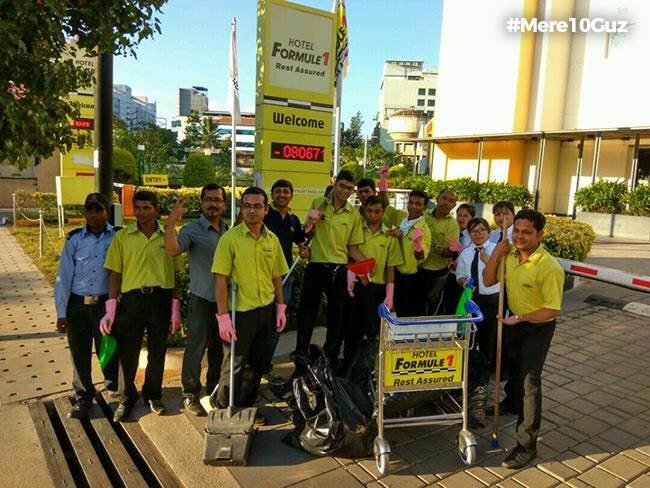 Colonel Tamojeet Biswas, Karnataka
Swachhta Ki Pathshala at Sainik School Bijapur, May 5,2017
Nestled in the lap of nature, Sainik School Bijapur, in the land of famous Gol Gumbaz at Vijayapura in Karnataka is in step with the national movement 'The Swachata Abhiyaan' or campaign to keep our environs clean. We, inside our school premise of 406 acres and outside, keep the locations of the farm, dairy, classrooms, hostels, playfields and living space clean and free from any litters.
Cleanliness is embedded in our blood. We are proud to be part of Amitabh Bachchan sirs 'Swachhta Ki Pathshala'. We spend time in the morning and evening hours to go around picking up waste and deposit waste leaves and papers for preparing vermin-compost. The school vermin-compost is used to grow crops like Jowar, vegetables, mango trees, lawns, flower gardens. The waste is converted in to usable manure to keep our campus green.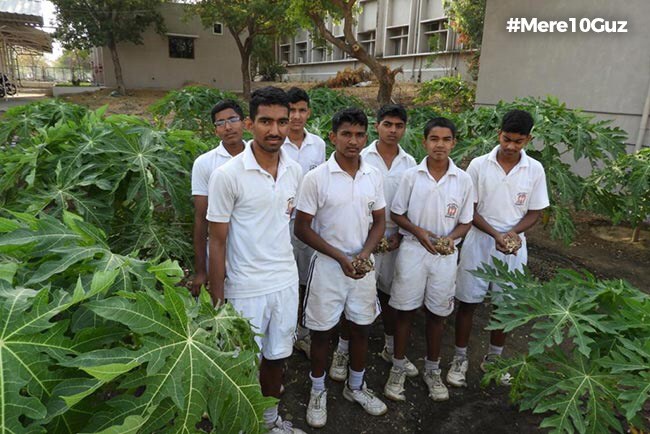 Chandrashekhar Gogate, Nashik
Last two years, I regularly make composting of my kitchen waste strict process.I had also prepared one cage box for composting garden waste. There by I have reduced waste generation by 90 %. Only packing material of plastic which are not degradable goes to Ghantagadi i.e. waste collecting vehicle of Municipal corporation. By using, I can use this compost to flourish my own garden. I do not need to purchase any type of fertiliser and soil of any kind.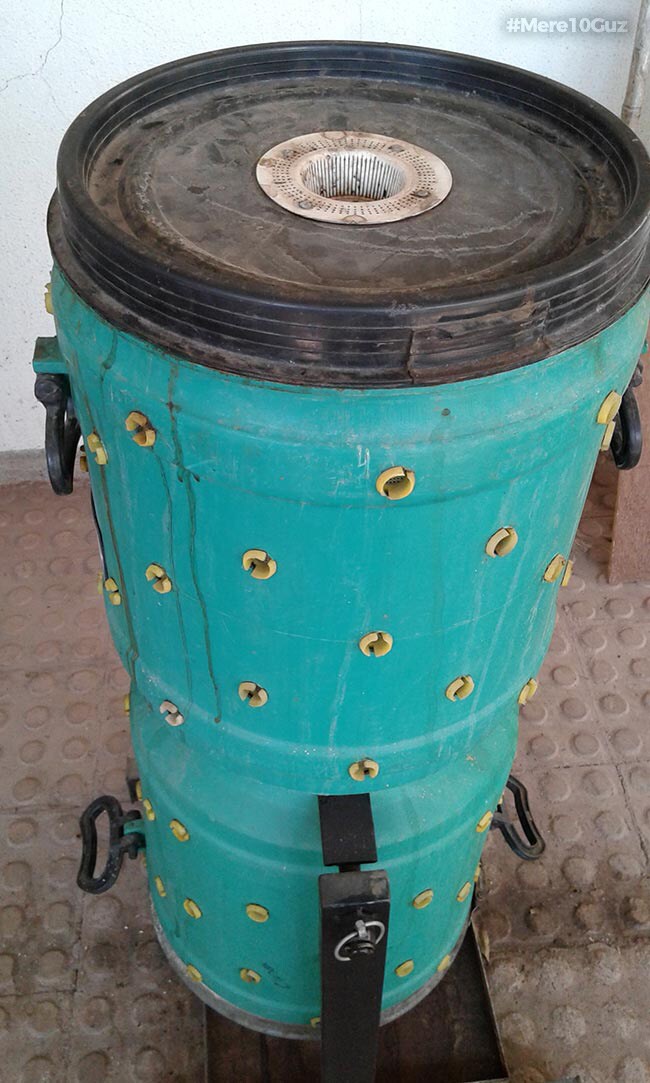 Archana Kashyap, Bengaluru
Two bins One bag - What is the story here?
Two bins One bag sums up the aspirations, research, efforts and dreams of a whole lot of committed citizens working over years to find a solution to our overwhelming garbage problem.
Segregation at source is the only way to remedy this and here is where two bins and a bag comes into picture. The ease of the formula and the way it instantly cuts down on plastic bags and the need for landfills to accommodate them has made it a resounding success. The colour coded system makes it uniform and effortless to follow. Following the best practices listed, this can be rolled out anywhere in a very short time.
From a small citizen initiative, it has grown into a movement encompassing the whole city and now country. Swachh Bharat can really be achieved only when each one of us takes charge of the waste we generate. Be a part of the dream to transform our country!
Pimple Audagar, Pune
"We are from Rose Icon society in Pimple Audagar, Pune, Maharashtra. Today our society kids along with parents cleaned the bus stop in front of our society gate where lot of posters were pasted, making it dirty. These kids and parents worked enthusiastically for an hour to make it absolutely clean."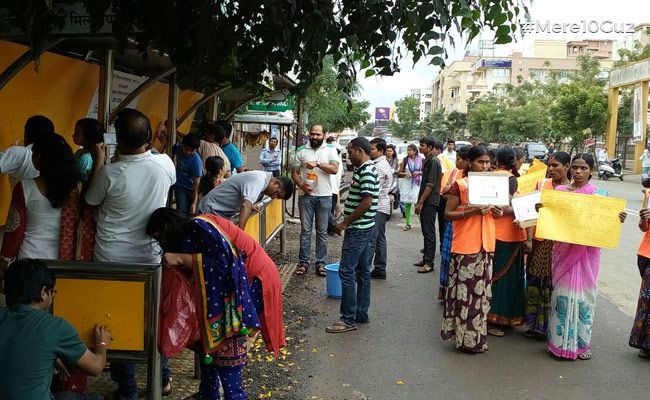 Heritage Girls School, Udaipur
"With brooms in hand and sense of responsibility towards the nation, girls of Heritage Girls School, Udaipur, stepped out of the campus and headed toward the 10th century Sas Bahu Temple for Swachh Bharat Mission. They swept the floors, cleaned the garbage around and made the place wonderful again."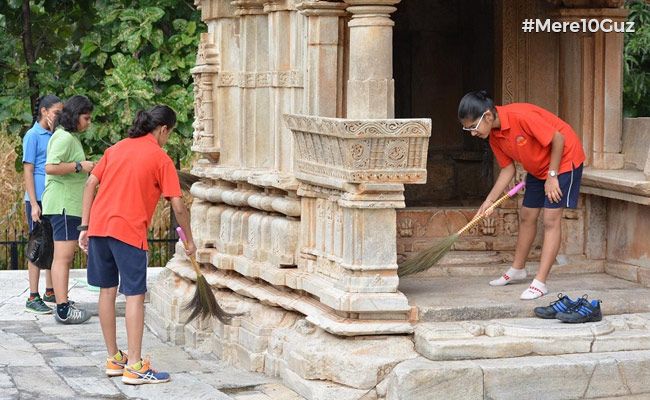 Ryan International School, Rohini
Students participated in the NDTV Banega Swachh India Cleanathon and cleaned the surroundings of their School.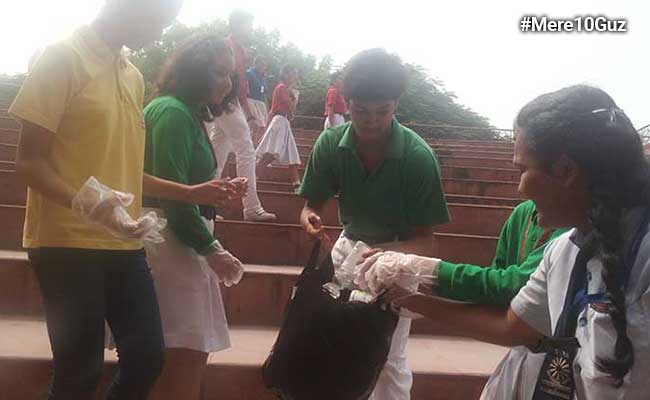 Royal Global School, Guwahati
Here seen are the students of the Royal Global School, Guwahati, who participated in the clean-up drive to raise awareness among people to keep the surroundings clean.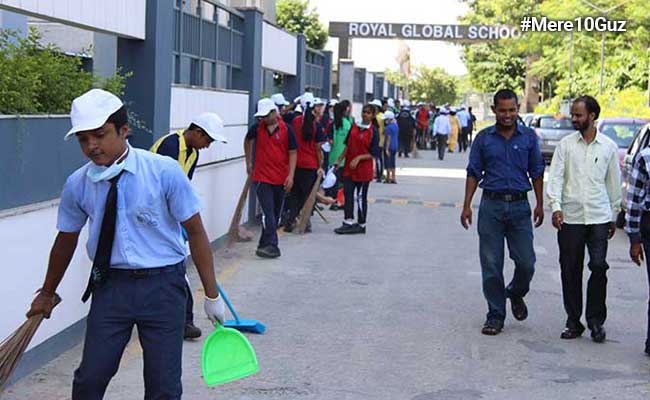 Meerut Public School, Meerut
Students of Meerut Public School came out on the streets for the clean-up drive and to spread awareness among the general public.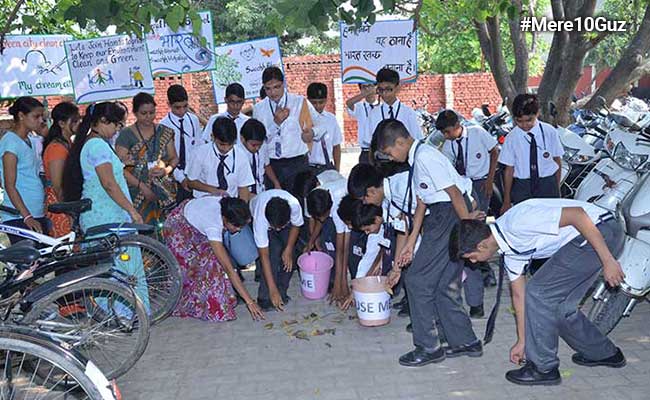 Bhatnagar International School, Vasant Kunj
Students of the Bhatnagar International School, Vasant Kunj, cleaned up the school premises. Cleaning was carried out at various periods of the school day.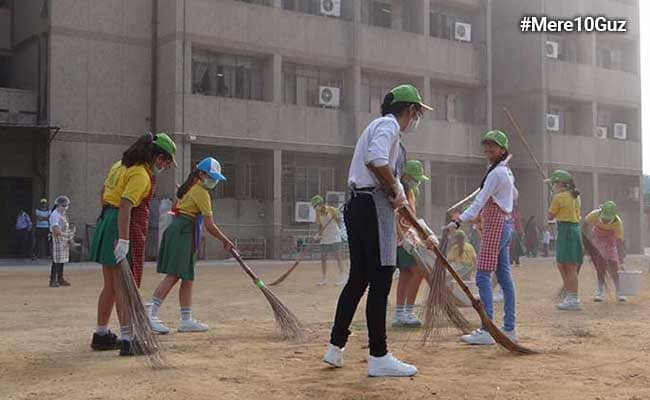 The Lawrence School - Sanawar
With an aim to spread awareness among the people to keep their surroundings as clean as their homes, and to stop littering and disposing the garbage properly, the students of The Lawrence School - Sanawar, came out and cleaned the surroundings of their school.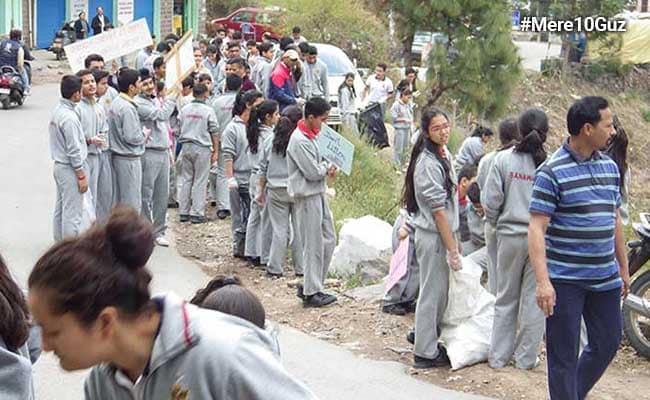 Mangalana Road, Makrana, Rajasthan
Students of Makrana Public School cleaning up the Makrana Railway Station, Rajasthan.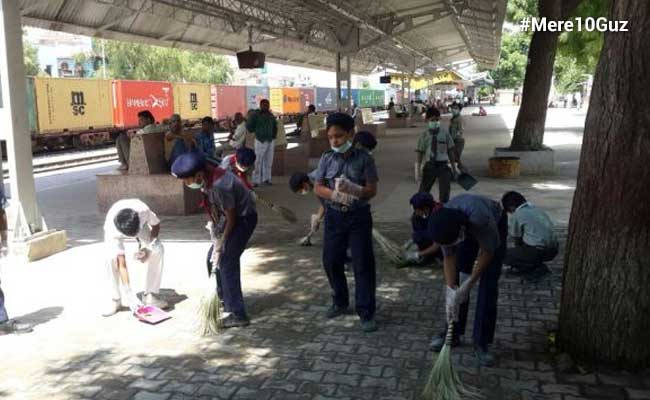 Andheri West, Mumbai
"Clean Paonta Green Paonta is an initiative to keep this small industrial town pollution free. Started by a senior citizen Mr. Rajendra Tewari, the idea was to inject this thought in young minds. The uniqueness of this mission cleanup is that young children have taken the cause in their own hands. The town Paonta is situated at the banks on Yamuna River and it becomes all the more important to take care of the pollution of all kinds.

Core group that included SDM H.S. Rana and Mr. Tewari himself, started to speak in schools. Soon the initiative became a mission and school children were motivated to monitor the waste management at their home. Today around 35000 children are part of it and they operate in groups and every group has a name. As an initiative they visit shops and business establishments to inspect, inquire and motivate the respective shopkeepers to handle their waste carefully. They keep a record and also sees the cleanliness around the shops, give there feedback and submit it to the group. This whole program has a remarkable impact on the society. Their effort is bearing fruit and this door to door cleanliness drive is making the city cleaner and healthier.

Clean Paonta Green Paonta no longer stayed a slogan. It has made inroads into the conscience of people at the grass root level. The holy city of Paonta sahib deserved this campaign because as they say 'the love for God is the love to protect the environment'. Cleanliness is a spiritual experience as well. The film is an initiative to support this awareness program."


DPS Patna, Bihar
"DPS Patna organised a clean up drive in the surrounding area of its Junior Wing Campus to make NDTV Banega Swachh India Campaign a great success. Cleanup was carried out by students of NDTV School TV DPS Patna. In this video, we can see students along with teachers and staff are taking up The Swachhta Pledge."


C-25, IFS Apartments, Mayur Vihar Phase I, Delhi
"Metro ke andar jaise safai, bahar kyun nahi?" The residents of "IFS Apartments" posed this question to the commuters, vendors and rickshaw pullers outside Mayur Vihar Phase I Station in the evening of the eve of Gandhi Jayanti. Contributing to the "Swatch Bharat" campaign, young and old volunteers set an example by picking up garbage and requested the passersby to co-operate in keeping the area clean. It was heart warming to see former diplomats and their wives picking up litter from the street! Attractive placards exhorting all to adopt cleanliness around them were prepared by the children of Shanti Niketan Public School in Pandav Nagar. Students of Ahlcon International School also participated enthusiastically. The "IFS Apartments" residents have set a good example. The city can be kept clean and free of Dengue and Chickengunia when the enlightened citizens of our city assist the municipal workers both by creating awareness among the people and by directly removing garbage in their localities."
Porvorim, Bardez, South Goa
"Pantajali Yog Group & Youth Hostel Association of India, Porvorim Unit organized cleanliness drive near GCA Ground, Porvorim Goa Market, under Swachh Bharat Abhiyan on Oct 2 from 7:30 AM to 10:30 AM. We also requested to market people not to make place dirty and use dustbin to dispose litter."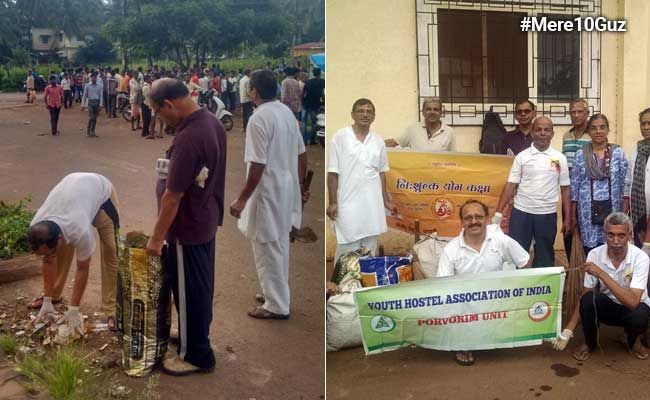 BN Little World, Near Honda Showroom, Anand, Gujarat
"Cleanliness starts from within and it is inculcated in the tiny tots. Clean India. Green India."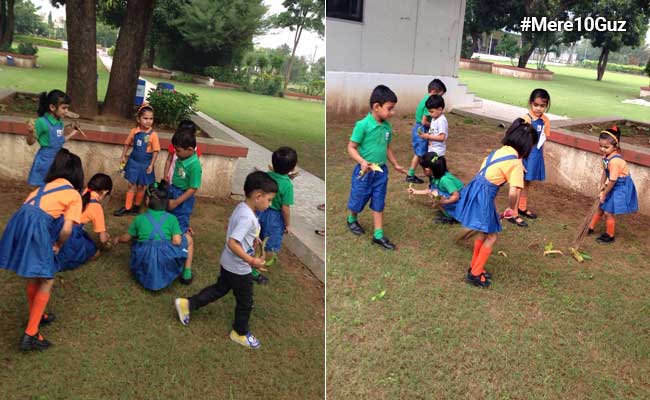 A-54, Swapnalok Apts, Panchvati Road, Ellisbridge, Ahmedabad
"We wrote to the local municipal corporation for assistance to carry out the clean up drive. We prepared the society members. My self Phani Trivedi, along with Mita Gandhi, servants at home, security guard and street sweeper were paid for assisting in the drive. The corporation sent brooms, man power, Gamaxin powder and helped us clean up the waste collected immediately. We started at 9 AM and completed at 11 AM on Oct 1, 2016 at Pancham Kutir, Near Sindhu Bhavan. The open area where waste is being dumped belongs to government and since it is not maintained, there is a lot of green cover, thorns & plastic and glass waste thrown along with food waste."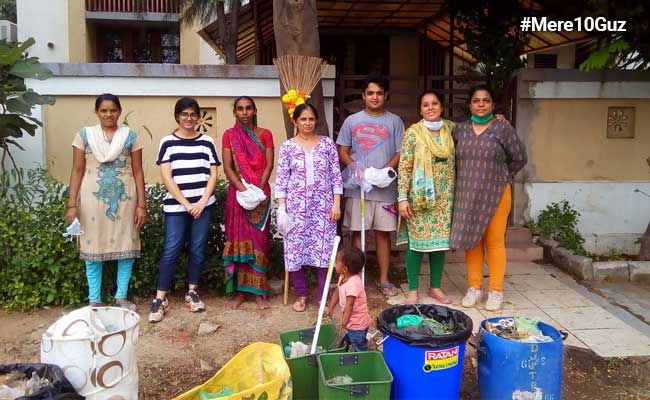 C-12/493, Yamuna Vihar, Delhi
"That's almost a daily routine of keeping my 10 Guj clean in the back lanes. No one does it except me! Wish neighbors could also contribute. Even if they do not throw it there, that could make things much easier for us."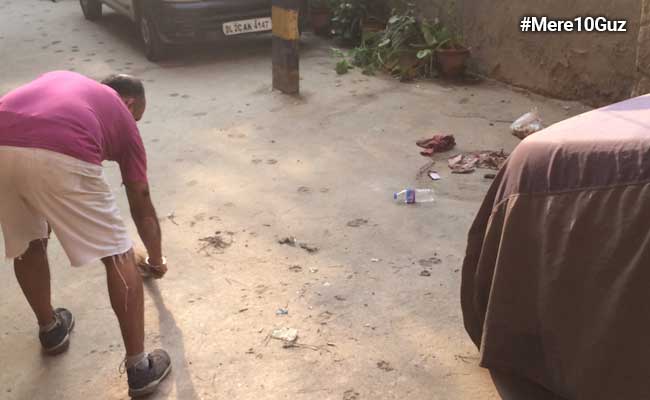 I - 31, Gandhi Nagar, Gwalior, Madhya Pradesh
"I want to share my father's contribution towards Swacch Bharat Abhiyaan. He is retired bank manager and has been cleaning almost 70 - 80 metres Of road surrounding our home in Gwalior, MP for the past 10 years. He starts cleaning 4 AM onwards and do it till 5:30 AM. Irrespective of whose garbage it is, he cleans every bit of it and makes sure that it remains clean throughout the day. Even if some cow shits anywhere at any point of time in a day, he cleans it immediately."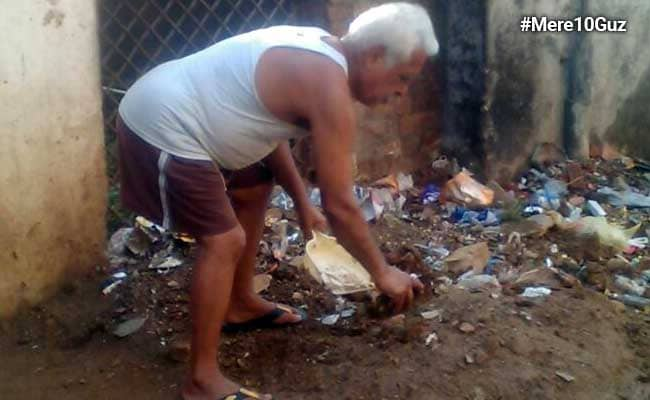 Samir Dash, Site 13, First Floor, 4th Main, NRI Layout, Rammurthy Nagar, Bangalore
"This is my first attempt at short film and and it was great experience in making this video to spread awareness about clean india initiative."

Story of the film: A 7 year old kid wakes up in the morning and peeps to watch his grand-father walking on a exercise machine. Feeling excited he follows his grand-father's action and runs on the exercise stepper. Similarly he follows his grand fathers all activities and saves coins in piggy bank and plays with shaving brush. He is careful not to litter his pencil and paper waste during drawing. He draws a sketch on 'India is my home'. Later he sees his grandfather throwing empty water bottle and banana skins to road from balcony. He imitates this action of his grandfather and spills all garbage from dust-bin on the floor. When grandfather gets the shock seeing this he shows him the garbage the grandfather has littered on road. Grandfather realize his mistake and at the end it is seen both of them are cleaning the garbage thrown by the grandfather on the road."


SBKV Higher Secondary School, Coimbatore, Tamilnadu
"Our school has introduced "Clean Kikani, Green Kikani" program from 15th Aug 2016, in support of the Swachh Bharat Abhiyan initiative from our Hon. Prime Minister. Below are the initiatives collectively taken by our Management, Teachers, Students and Parents towards a clean school environment.
Formation of Green Brigade
- 50 NSS and NCC students are selected in Green Brigade.
Awareness Program
- Cleanliness Awareness Programs have been conducted for Students, Teachers and Parents. Agenda of the program was set on personal hygiene and the environmental hygiene. Attendees of the program understood the Importance of "3R-Reduce, Reuse & Recycle". Students take pledge daily during morning assembly regarding "Clean Kikani, Green Kikani". Pamphlets, Leaflets and Brochures were issued to students and public regarding hygiene and benefits of clean environment.
Training conducted
- Video has been screened on importance of using Toilets. Guest lectures on the ill effects of plastic and polythene has been delivered. Workshop on "Organic Farming" & "Compost preparation" has been conducted. Various methods of separating wastes and converting those to useful resources have been taught to the students.
Activities
- Green brigade students collect wastes from each and every classroom, Ground, & Parking areas. Then they segregate the wastes into biodegradable and non-biodegradable wastes. Then they weigh the wastes to understand the progress daily. There was a positive cooperation from all students and staffs.
Result
- During initial stages, more than 25 Kg waste used to get collected from the classrooms. But now, around 5 kg only gets collected from the classrooms. This Achievement has become possible by the collective cooperation of management, Staffs and Students. During this Quarterly vacation, Our Students took the initiative and cleaned the Coimbatore Central Library and its premises. This has been a proud moment for us. The District Library officer and Library staffs has been in great cooperation with us for the success of the cleaning initiative.
Future Plans-
Formation of Vegetable Garden inside school premises using compost prepared from school organic wastes. Vegetables from the garden will be used for the Noon Meal Scheme. Bio gas plant will be installed in near future in our Noon Meal Centre."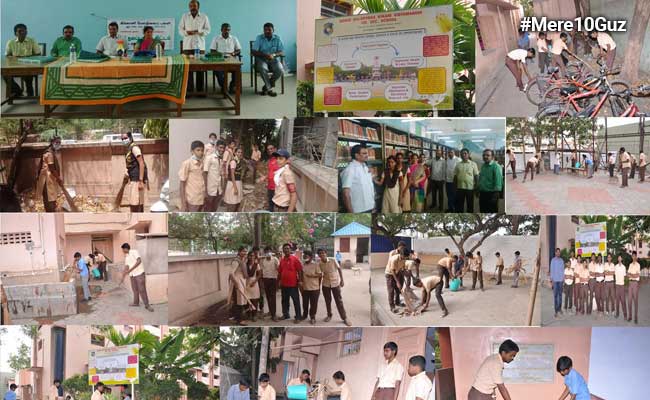 A - 77, Palam Ext, Sec - 7 Dwarka, Delhi
"I try to clean yamuna and also many areas around my home. I will do my best to make india a clean country. Jai hind. Ek kadam swactha ke orr."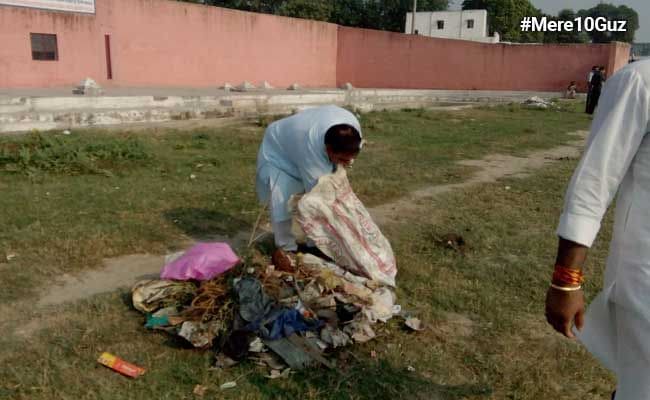 The Signature Sector, 3A, Awas Vikas Colony, Bodla, Agra
"This photo is of Platform no 6 at the Agra Cant Railway Station, Agra. Yahan Agra to Delhi superfast train Gatiman Express rukti hai or ye area pehle bahut ganda hua krta tha or bahut smell bhi aati thi but now this place is clean"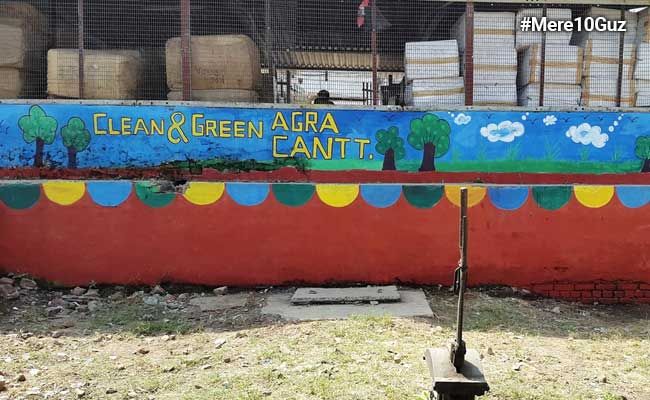 St. Mary's School, Mazagaon
As part of the #Mere10Guz campaign, which urges people to step out and clean up 10 yards of their surroundings, the cleanliness and plantation drive was undertaken at the St. Mary's School wherein the students planted 60 saplings and cleaned the school premises.


Cambridge School, A Block, New Friends Colony
"Cleanliness drive is an on going process in our school. Cleaning material like a broom and duster is provided in all the classes to involve the children in cleaning up after break time, any special event, and also before leaving for vacation."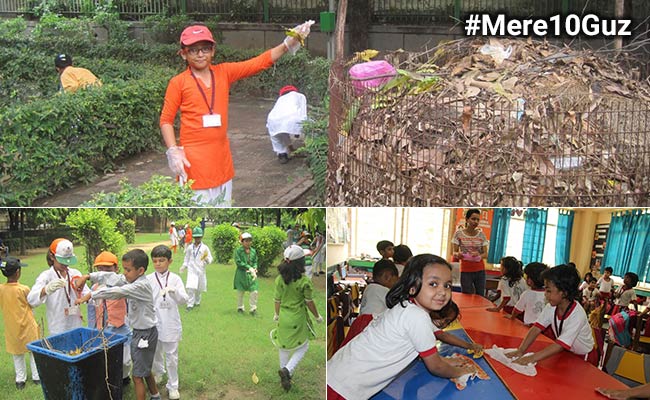 Shaheed Bhagat Singh Seva
"Shaheed Bhagat Singh Seva conduct clean-up activities in different villages of Noida, every Sunday. They also create awareness among the villagers about why it's important to keep our surroundings clean."