Pimple Audagar, Pune
"We are from Rose Icon society in Pimple Audagar, Pune, Maharashtra. Today our society kids along with parents cleaned the bus stop in front of our society gate where lot of posters were pasted, making it dirty. These kids and parents worked enthusiastically for an hour to make it absolutely clean."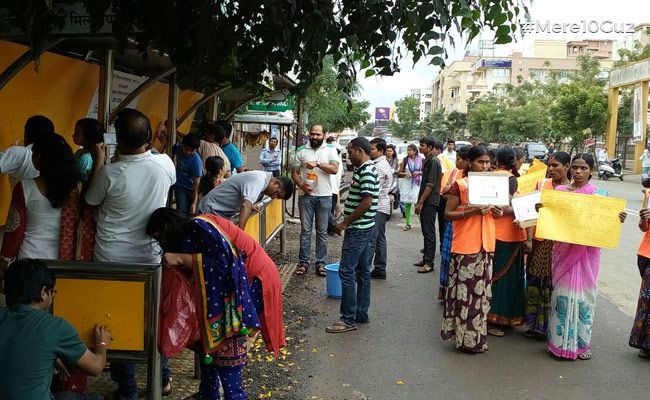 Heritage Girls School, Udaipur
"With brooms in hand and sense of responsibility towards the nation, girls of Heritage Girls School, Udaipur, stepped out of the campus and headed toward the 10th century Sas Bahu Temple for Swachh Bharat Mission. They swept the floors, cleaned the garbage around and made the place wonderful again."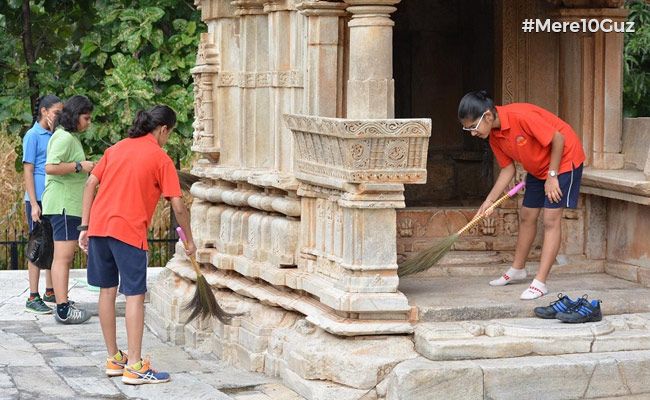 Ryan International School, Rohini
Students participated in the NDTV Banega Swachh India Cleanathon and cleaned the surroundings of their School.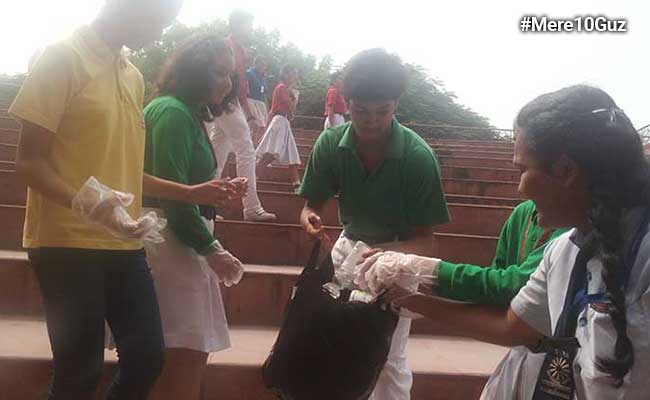 Royal Global School, Guwahati
Here seen are the students of the Royal Global School, Guwahati, who participated in the clean-up drive to raise awareness among people to keep the surroundings clean.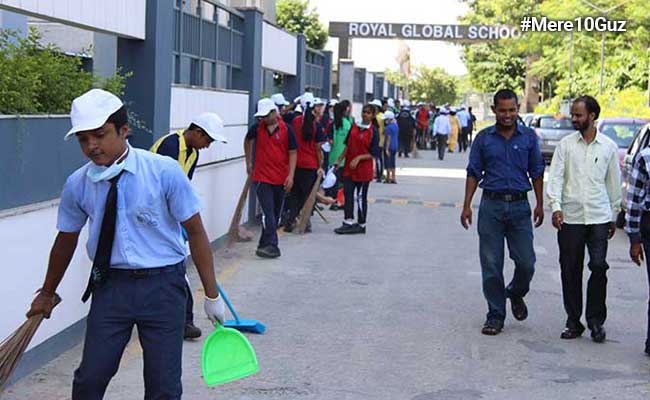 Meerut Public School, Meerut
Students of Meerut Public School came out on the streets for the clean-up drive and to spread awareness among the general public.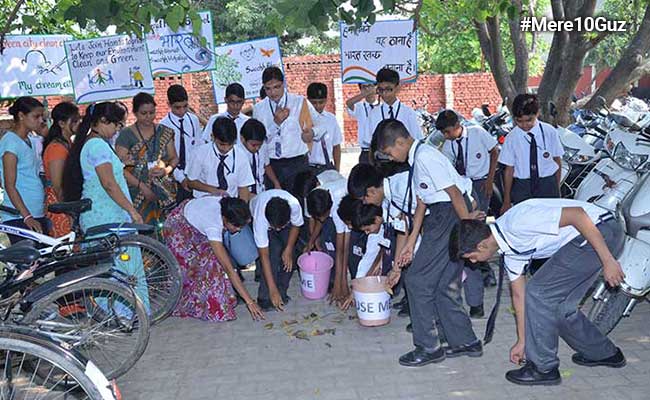 Bhatnagar International School, Vasant Kunj
Students of the Bhatnagar International School, Vasant Kunj, cleaned up the school premises. Cleaning was carried out at various periods of the school day.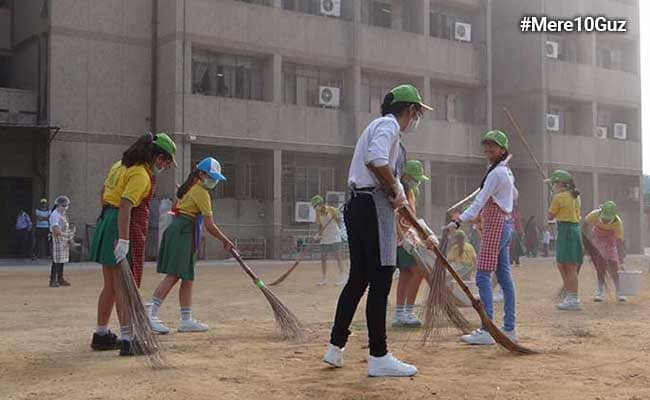 The Lawrence School - Sanawar
With an aim to spread awareness among the people to keep their surroundings as clean as their homes, and to stop littering and disposing the garbage properly, the students of The Lawrence School - Sanawar, came out and cleaned the surroundings of their school.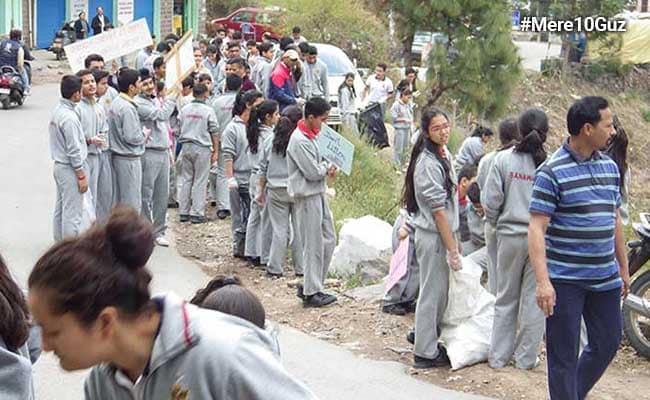 Mangalana Road, Makrana, Rajasthan
Students of Makrana Public School cleaning up the Makrana Railway Station, Rajasthan.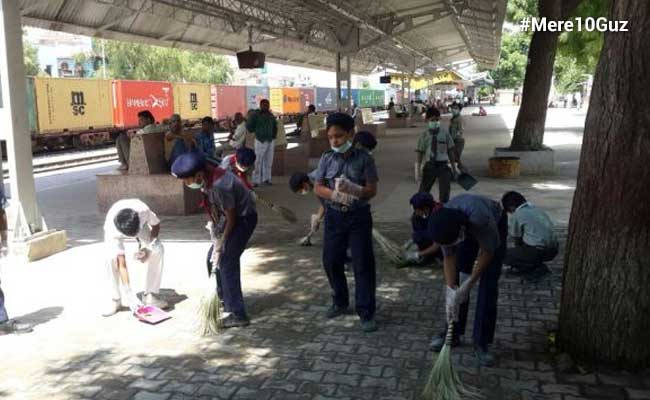 Andheri West, Mumbai
"Clean Paonta Green Paonta is an initiative to keep this small industrial town pollution free. Started by a senior citizen Mr. Rajendra Tewari, the idea was to inject this thought in young minds. The uniqueness of this mission cleanup is that young children have taken the cause in their own hands. The town Paonta is situated at the banks on Yamuna River and it becomes all the more important to take care of the pollution of all kinds.

Core group that included SDM H.S. Rana and Mr. Tewari himself, started to speak in schools. Soon the initiative became a mission and school children were motivated to monitor the waste management at their home. Today around 35000 children are part of it and they operate in groups and every group has a name. As an initiative they visit shops and business establishments to inspect, inquire and motivate the respective shopkeepers to handle their waste carefully. They keep a record and also sees the cleanliness around the shops, give there feedback and submit it to the group. This whole program has a remarkable impact on the society. Their effort is bearing fruit and this door to door cleanliness drive is making the city cleaner and healthier.

Clean Paonta Green Paonta no longer stayed a slogan. It has made inroads into the conscience of people at the grass root level. The holy city of Paonta sahib deserved this campaign because as they say 'the love for God is the love to protect the environment'. Cleanliness is a spiritual experience as well. The film is an initiative to support this awareness program."


DPS Patna, Bihar
"DPS Patna organised a clean up drive in the surrounding area of its Junior Wing Campus to make NDTV Banega Swachh India Campaign a great success. Cleanup was carried out by students of NDTV School TV DPS Patna. In this video, we can see students along with teachers and staff are taking up The Swachhta Pledge."


C-25, IFS Apartments, Mayur Vihar Phase I, Delhi
"Metro ke andar jaise safai, bahar kyun nahi?" The residents of "IFS Apartments" posed this question to the commuters, vendors and rickshaw pullers outside Mayur Vihar Phase I Station in the evening of the eve of Gandhi Jayanti. Contributing to the "Swatch Bharat" campaign, young and old volunteers set an example by picking up garbage and requested the passersby to co-operate in keeping the area clean. It was heart warming to see former diplomats and their wives picking up litter from the street! Attractive placards exhorting all to adopt cleanliness around them were prepared by the children of Shanti Niketan Public School in Pandav Nagar. Students of Ahlcon International School also participated enthusiastically. The "IFS Apartments" residents have set a good example. The city can be kept clean and free of Dengue and Chickengunia when the enlightened citizens of our city assist the municipal workers both by creating awareness among the people and by directly removing garbage in their localities."
Porvorim, Bardez, South Goa
"Pantajali Yog Group & Youth Hostel Association of India, Porvorim Unit organized cleanliness drive near GCA Ground, Porvorim Goa Market, under Swachh Bharat Abhiyan on Oct 2 from 7:30 AM to 10:30 AM. We also requested to market people not to make place dirty and use dustbin to dispose litter."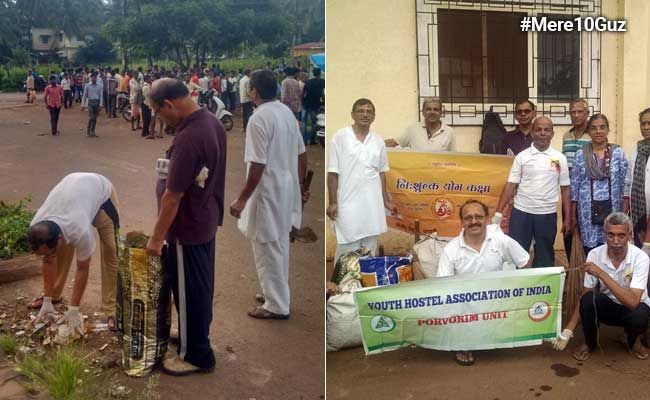 BN Little World, Near Honda Showroom, Anand, Gujarat
"Cleanliness starts from within and it is inculcated in the tiny tots. Clean India. Green India."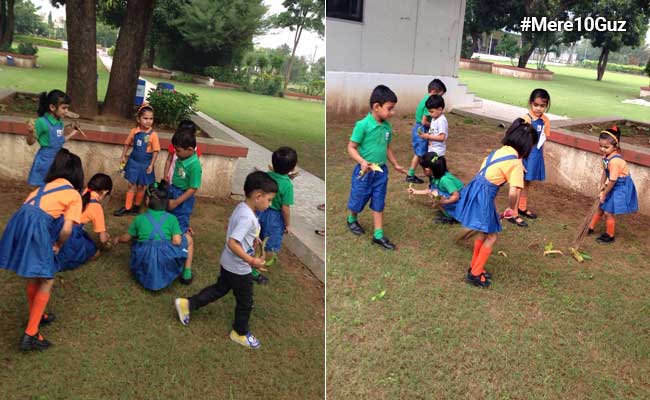 A-54, Swapnalok Apts, Panchvati Road, Ellisbridge, Ahmedabad
"We wrote to the local municipal corporation for assistance to carry out the clean up drive. We prepared the society members. My self Phani Trivedi, along with Mita Gandhi, servants at home, security guard and street sweeper were paid for assisting in the drive. The corporation sent brooms, man power, Gamaxin powder and helped us clean up the waste collected immediately. We started at 9 AM and completed at 11 AM on Oct 1, 2016 at Pancham Kutir, Near Sindhu Bhavan. The open area where waste is being dumped belongs to government and since it is not maintained, there is a lot of green cover, thorns & plastic and glass waste thrown along with food waste."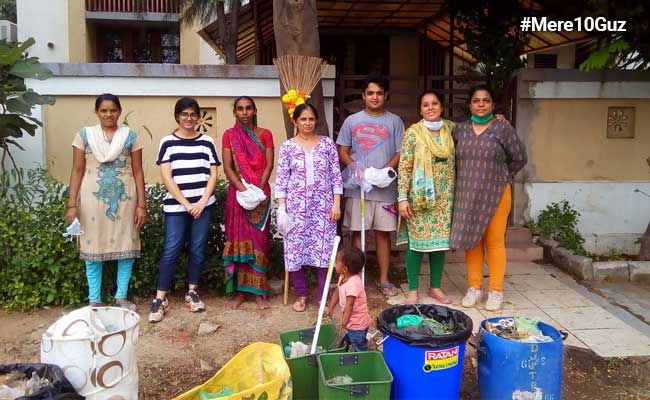 C-12/493, Yamuna Vihar, Delhi
"That's almost a daily routine of keeping my 10 Guj clean in the back lanes. No one does it except me! Wish neighbors could also contribute. Even if they do not throw it there, that could make things much easier for us."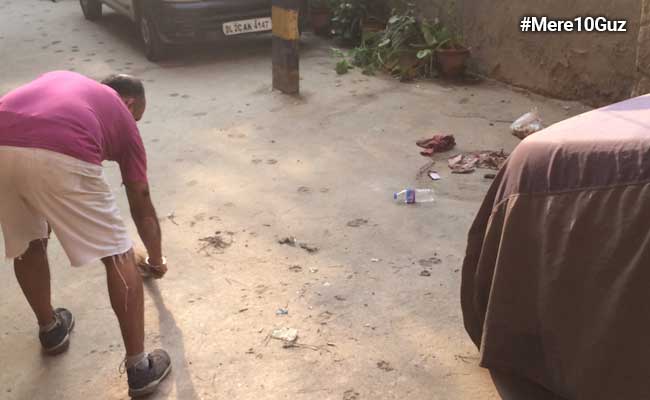 I - 31, Gandhi Nagar, Gwalior, Madhya Pradesh
"I want to share my father's contribution towards Swacch Bharat Abhiyaan. He is retired bank manager and has been cleaning almost 70 - 80 metres Of road surrounding our home in Gwalior, MP for the past 10 years. He starts cleaning 4 AM onwards and do it till 5:30 AM. Irrespective of whose garbage it is, he cleans every bit of it and makes sure that it remains clean throughout the day. Even if some cow shits anywhere at any point of time in a day, he cleans it immediately."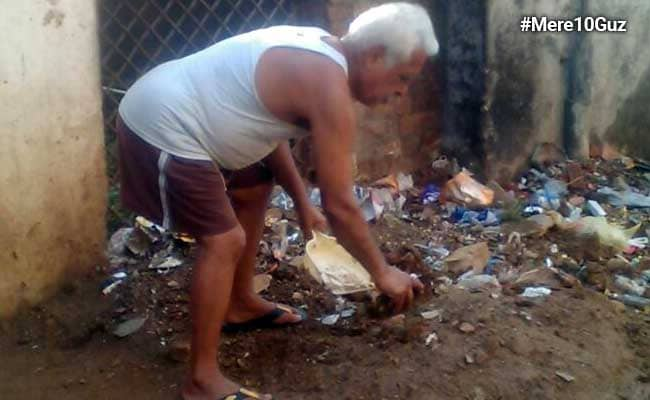 Samir Dash, Site 13, First Floor, 4th Main, NRI Layout, Rammurthy Nagar, Bangalore
"This is my first attempt at short film and and it was great experience in making this video to spread awareness about clean india initiative."

Story of the film: A 7 year old kid wakes up in the morning and peeps to watch his grand-father walking on a exercise machine. Feeling excited he follows his grand-father's action and runs on the exercise stepper. Similarly he follows his grand fathers all activities and saves coins in piggy bank and plays with shaving brush. He is careful not to litter his pencil and paper waste during drawing. He draws a sketch on 'India is my home'. Later he sees his grandfather throwing empty water bottle and banana skins to road from balcony. He imitates this action of his grandfather and spills all garbage from dust-bin on the floor. When grandfather gets the shock seeing this he shows him the garbage the grandfather has littered on road. Grandfather realize his mistake and at the end it is seen both of them are cleaning the garbage thrown by the grandfather on the road."


SBKV Higher Secondary School, Coimbatore, Tamilnadu
"Our school has introduced "Clean Kikani, Green Kikani" program from 15th Aug 2016, in support of the Swachh Bharat Abhiyan initiative from our Hon. Prime Minister. Below are the initiatives collectively taken by our Management, Teachers, Students and Parents towards a clean school environment.
Formation of Green Brigade
- 50 NSS and NCC students are selected in Green Brigade.
Awareness Program
- Cleanliness Awareness Programs have been conducted for Students, Teachers and Parents. Agenda of the program was set on personal hygiene and the environmental hygiene. Attendees of the program understood the Importance of "3R-Reduce, Reuse & Recycle". Students take pledge daily during morning assembly regarding "Clean Kikani, Green Kikani". Pamphlets, Leaflets and Brochures were issued to students and public regarding hygiene and benefits of clean environment.
Training conducted
- Video has been screened on importance of using Toilets. Guest lectures on the ill effects of plastic and polythene has been delivered. Workshop on "Organic Farming" & "Compost preparation" has been conducted. Various methods of separating wastes and converting those to useful resources have been taught to the students.
Activities
- Green brigade students collect wastes from each and every classroom, Ground, & Parking areas. Then they segregate the wastes into biodegradable and non-biodegradable wastes. Then they weigh the wastes to understand the progress daily. There was a positive cooperation from all students and staffs.
Result
- During initial stages, more than 25 Kg waste used to get collected from the classrooms. But now, around 5 kg only gets collected from the classrooms. This Achievement has become possible by the collective cooperation of management, Staffs and Students. During this Quarterly vacation, Our Students took the initiative and cleaned the Coimbatore Central Library and its premises. This has been a proud moment for us. The District Library officer and Library staffs has been in great cooperation with us for the success of the cleaning initiative.
Future Plans-
Formation of Vegetable Garden inside school premises using compost prepared from school organic wastes. Vegetables from the garden will be used for the Noon Meal Scheme. Bio gas plant will be installed in near future in our Noon Meal Centre."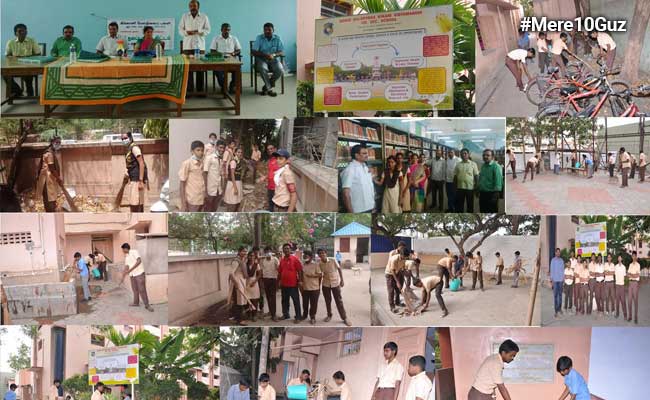 A - 77, Palam Ext, Sec - 7 Dwarka, Delhi
"I try to clean yamuna and also many areas around my home. I will do my best to make india a clean country. Jai hind. Ek kadam swactha ke orr."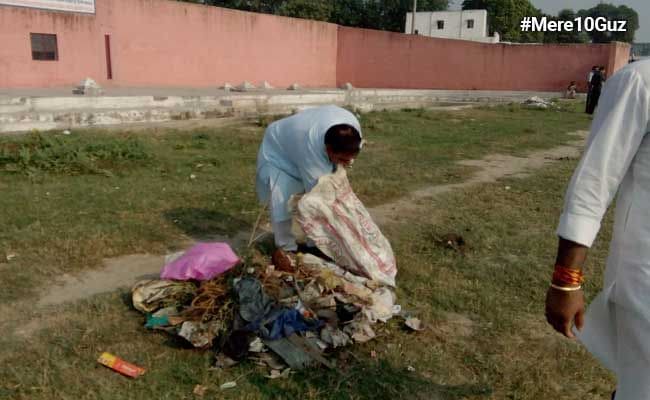 The Signature Sector, 3A, Awas Vikas Colony, Bodla, Agra
"This photo is of Platform no 6 at the Agra Cant Railway Station, Agra. Yahan Agra to Delhi superfast train Gatiman Express rukti hai or ye area pehle bahut ganda hua krta tha or bahut smell bhi aati thi but now this place is clean"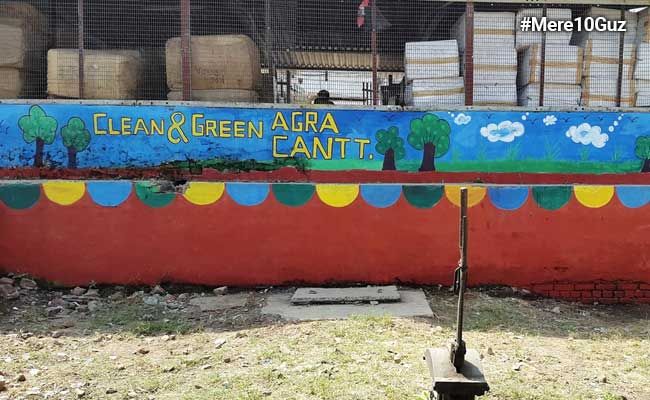 St. Mary's School, Mazagaon
As part of the #Mere10Guz campaign, which urges people to step out and clean up 10 yards of their surroundings, the cleanliness and plantation drive was undertaken at the St. Mary's School wherein the students planted 60 saplings and cleaned the school premises.


Cambridge School, A Block, New Friends Colony
"Cleanliness drive is an on going process in our school. Cleaning material like a broom and duster is provided in all the classes to involve the children in cleaning up after break time, any special event, and also before leaving for vacation."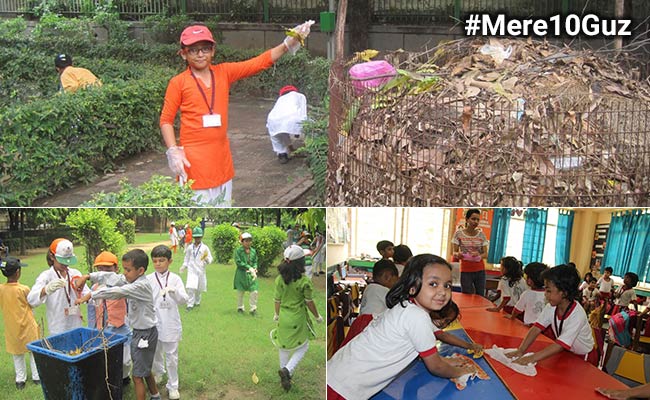 Shaheed Bhagat Singh Seva
"Shaheed Bhagat Singh Seva conduct clean-up activities in different villages of Noida, every Sunday. They also create awareness among the villagers about why it's important to keep our surroundings clean."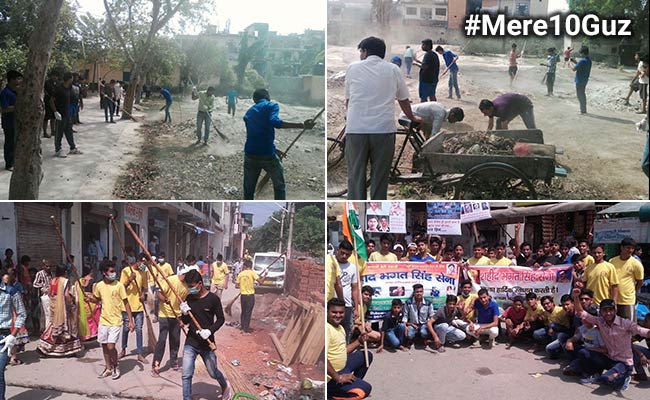 Principal, Kendriya Vidyalaya, AFS, Kasauli
"Kendriya Vidyalaya, AFS, Kasauli is proud to be part of the cleanliness campaign. Over 300 students participated in the clean-up drive. It's a small station and for the last three months it has been raining continually making the surrounding mossy."


Clean-up drive done by: We Mean To Clean

"Delhi is reeling under the menace of poster mafia. Almost any entity posts a flood of posters on any public wall available. This is a subway near Dabri Mor Flyover in Delhi, which was covered under a layer of such posters by a coaching institute. Although they assured us to help in our cleanliness drive but it turned out to be false. But that's ok. Our team was high on enthusiasm and removed those posters. We also painted the wall back to yellow and black stripes. And it has a significance. This subway is at a turn and these stripes are an indication of alert. This spot also sustains to date!"


Clean-up drive done by: We Mean To Clean

"Uttam Nagar East metro station parking lot suffered from the problem of garbage accumulation. Our team decided to clean this area with the help of our volunteers. We also got support from the parking staff. We also engaged with Delhi Street Art team to beautify this place with some artwork because it's a human tendency not to ruin 'beauty'. As a result of this, this spot is sustaining to date! So, in all, the effort of 40 volunteers involved sustains!"


Clean-up drive done by: We Mean To Clean
Date:
11-Sep-16
Location:
C-Block, Connaught Place, Delhi
No. of Volunteers:
10-15 (Approx), including The Ugly Indian (TUI) team, New Delhi Municipal Corporation (NDMC) officials and staff, and We Mean To Clean (WMTC) volunteers.
Time Taken:
2.5 hours
"Paan stains on pillars at CP are a common sight. Painting on these pillars was inevitable. But the NDMC wanted to fix this issue for good. The idea was how to prevent people from spitting paan on these pillars. So, while the NDMC staff helped in cleaning, WMTC helped in painting, TUI suggested we keep potted plants at these corners. And yes, daily reports from NDMC suggest these are sustaining!"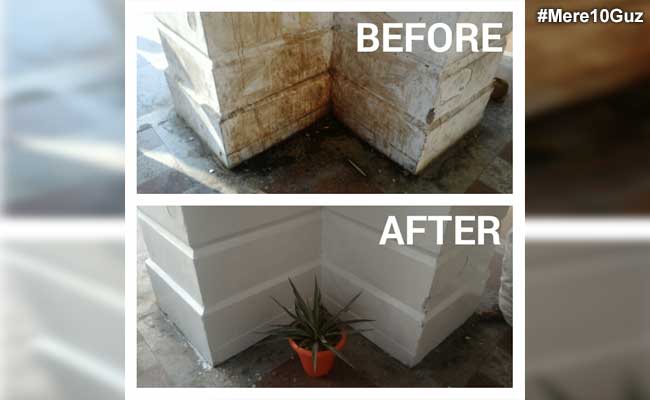 Clean-up drive done by: We Mean To Clean
Location:
Press Club of India, Raisina Hill, Delhi (Opposite Krishi Bhawan)
Date:
10-Sep-16
No. of Volunteers:
40 (approx) - Including The Ugly Indian (TUI) team, New Delhi Municipal Corporation (NDMC) officials and staff, and We Mean To Clean (WMTC) volunteers.
Time Taken:
8 hours
"This spotfix was led by NDMC and TUI team was leading it. We Mean To Clean volunteers were glad to be a part of this. This wall was in a shabby condition and was an open urination spot even though a public toilet is only a few steps away. The wall was plastered by the NDMC a night before and the next day all of us painted it. NDMC staff helped in leveling the ground, made a pavement using interlocking tiles and helped install tree-pots and a bench. This spot is sustaining and has been declared open urination free!"
Shanti Tripathy
"Villagers & residents outside our boundary wall throw their garbage routinely on our side of the sector. Sweepers don't clean this saying it's not on road. So I do it whenever garbage comes flying from that side on our galli."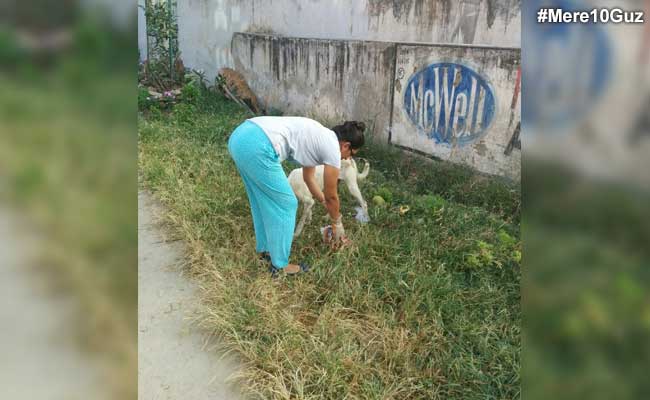 Seema Verma, Port Blair, Andaman and Nicobar Islands
"I am writing to you as I would like to use your platform to share our story which is a small step in the Swachh Bharat campaign that our country is spearheading. We are the Naval Wives Welfare Association(NWWA), an organisation that brings together all the wives of the navy defence personnel, spread out all over the country and aim to help the naval community and all the lives our community touches, in day to day lives. I am writing to you as the ex-President of the Vishakhapatnam chapter of NWWA, and wife of the chairman of the school. We constructed state-of-the-art toilets for girls in our Naval Children School (NCS) in Visakhapatnam as a pilot project. Constructing these toilets was but a small part of our project. Our major focus was teaching toilet etiquettes and imbibing healthy toilet manners/habits amongst the students. This is why we believe our story is worth sharing, because by investing in teaching students and children, we are endeavouring to bring healthy toilet habits in homes and families, ensuring swachh bharat is a sustainable vision. Just to give you a brief overview of the project, we addressed clean toilets from four aspect
1. Quality construction - easily maintainable materials, with adequate water depending on the number of users, proper slopes and drainage and other technical requirements.
2. User training - conducting workshops , streaming of continuous video tutorials in toilets, group talks etc.
3. Training the cleaners - conducting workshops, followed by monthly refreshers on how to clean, what cleaning agents to use and a daily, weekly, monthly, six monthly cleaning schedule.
4. Providing equipment and tools to users and cleaners - we provide students with tissue paper, liquid soap, running water, back-up stored water incase of emergency , mops, sanitary napkin dispenser and sanitary napkin incinerators at ₹2 per day charged monthly.
We also provide the cleaners adequate equipment, personal clothing, and required cleaning agents to maintain clean toilets. Our project has been up and running for 6 months. We now intend to implement the same in our naval school in Port Blair. We would be glad to share our story with others, and hope your platform with its reach and impact gives us this opportunity."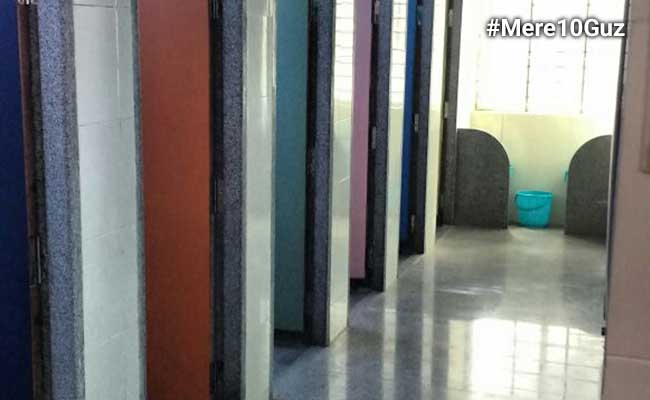 Yash Pandya, Mumbai, Maharashtra
"Guru Nanak College (GNC) has formally adopted the Guru Tegh Bahadur Nagar (GTB), a Mumbai suburban railway station on 2nd October, 2015. Students of GNC clean and maintain GTB station. Last year in 2015 the college had organized 9 days Chaka Chak GTB station Mahotsav from 10th October to 19th October, 2015. Students first cleaned the station and later painted the wall of bridges with slogans, moral principles and so on to beautify the wall. Along with this number of programmes were organised. Awareness about HIV, Health, Malaria, Fitness, Women's Rights, Senior Citizens' and Human Rights, Environment conservation, were created through banners, street plays and surveys. Brochures were also distributed and a wall painting drive was also conducted to beautify the platform. We had also organised laughter yoga sessions and a musical program on two days during the Mahotsav. But many people still didn't change their nature and behavior, they continued to spit on the beautified wall. They still don't realise, they aren't spitting on the wall, they are spitting on the faces of students - their efforts of day and night. But we students of GNC haven't lost hope, we are giving them a tough fight. We have again beautified the dirty wall. We are glad to see many daily commuters are appreciating us and some commuters are so generous that they are contributing in our activity by painting the station with us. It really feels great. The Chala Chak GTB will be conducted this year too."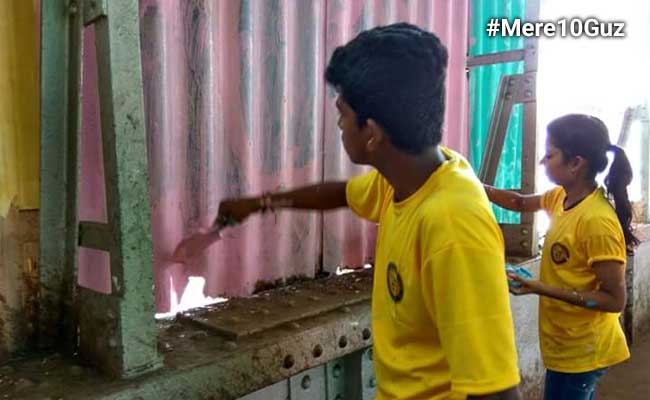 Ananda Sitaraman, Pune, Maharashtra
"We in Ginger society, Pimple Saudagar, Pune implemented dry and wet waste management - 2 Bin 1 Bag system. We have total of 350 flats including 20 houses. We, a team of six volunteers, have done a door-door campaign on waste segregation. We have distributed waste segregation guidelines to each and every home. I myself has composed near to 100kg of kitchen waste in my home with pot system. Happy to inform that residents responded very well. Next step is to implement in society level composting. Now neighbor society has called us for our suggestions in implementing the same. Need some more guidance on society level composting."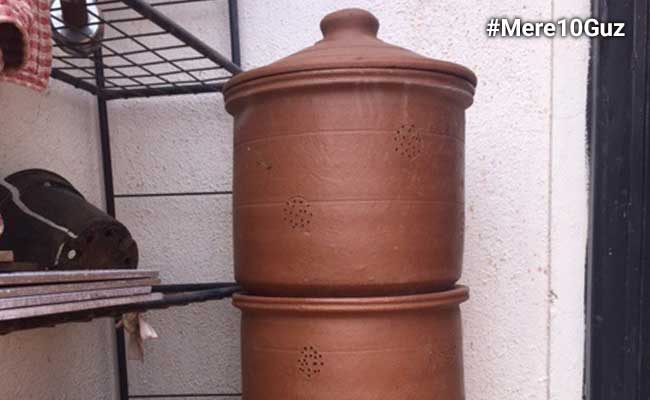 Shrigopal Jagtap, Indore, Madhya Pradesh
"Since 2010 IGS has been working with a number of Municipal Councils, Municipal Corporation and Resident Welfare Associations on solid waste management under this project IGS established micro-composting sites to process organic waste into compost and recycle from dry waste. The solid waste infrastructure is upgraded and door to door collection of waste is being done. The collected waste is then transported to trenching ground, located where segregation of waste is being done. The segregated waste is then processed in the compost unit to convert it into manure and solid waste is then processed into recyclable briquettes (gatta)."
Puneet Sharma, Pune, Maharashtra
"Dear NDTV, I am an Airforce veteran - a Wing Commander, who is presently working for a private airline as Captain on Boeing 737 aircraft. I am part of a group in Pune dedicated to this cause. A group of professionals from various fields have got together to take this campaign to every public place in the city. A Facebook page dedicated to the cause Swachh Pune - Swachh Bharat can provide you with most extensive account of work undertaken ever since it started in Pune on 05 Oct 2014. Every Sunday, means every Sunday, two to three hours devoted to the cause. This initiative by and large is one unique group of its kind, which has not had a single Sunday break, except once due to torrential rains. A campaign started by just seven individuals is now being followed by many groups trying to bring a change in the way Pune looks."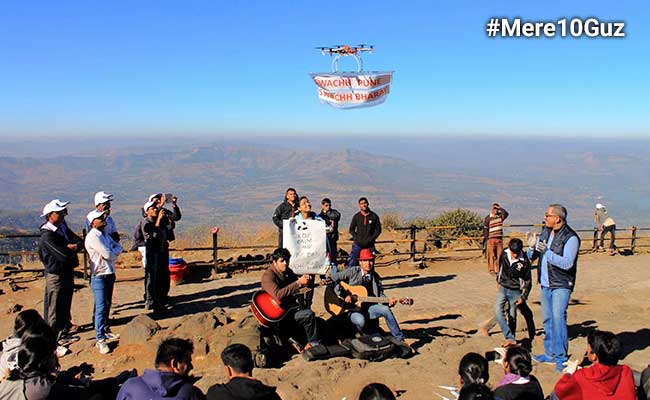 Abhishek Marwaha, New Delhi
"It is regarding a Campaign to bring behavioral changes in people on littering and spitting. It's been more than one year now and we ask,"Have you participated in Swachh Bharat yet?" I am sure the answer would be No from many people because thoughts on Swachh Bharat(Clean India) is restricted to picking up a broom and cleaning roads. We have initiated a campaign to bring Behavioral Changes in people so that their every conscious action gives them a feeling that it is their contribution in ensuring cleanliness. We have taken initiative to spread awareness on Car Litter and bring 40% reduction in Garbage on roads. Thus, hitting the root cause. Even our toilet has a trash bin but what about our Car? A strong need is there to install trash bin in cars. Also, we can never ban Paan from India. Does that mean there is no solution to Paan spit? I work in a travel technology firm and it is part of my job to travel abroad. I observed that the basic habits that we take due care of while in another country, we ignore the same in our own country and then we crib. Let's behave in our own Country the way we behave in any other foreign country. Few initiatives taken in the past could not bear results as the motive was to insult people(e.g. Sharam ka Taj by Aamir Khan) but we want to encourage people and bring behavioral changes in people by providing them with solutions and alternatives so that when they use it they feel it is their contribution to Swachh Bharat Campaign. Thus a feeling of empowerment too, in ensuring cleanliness around. It would be great if we could collaborate and initiate a positive campaign generate a need in people to have trash bin installed in their car and also encourage them to spit in the right place."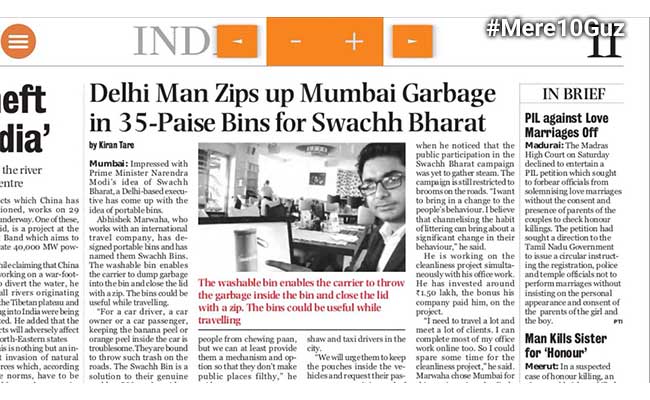 Susan Raj, Kota, Rajasthan
"We run Sagarmitra campaign in school and community, not only cleaning but also take care of the waste by sending it for recycling. School children collect plastic entering their homes, keep it clean and dry. They collect it for one month and once a month get it to their school and kabadiwala buy it from them. Now we have more than one lakh students in Pune and three thousand students in Kota."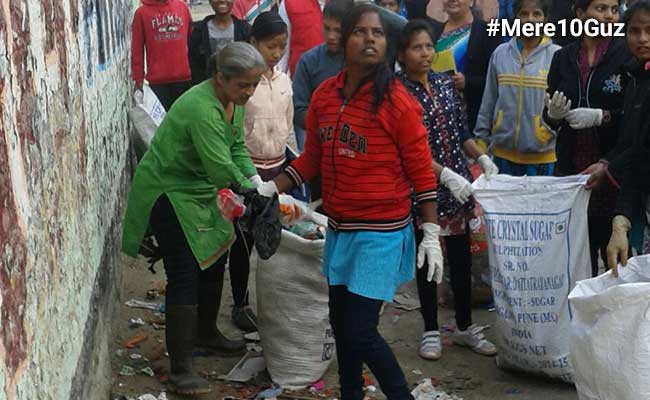 Manisha Sharma, Raipur, Chhattisgarh
"The concept of Little Doctor is to motivate the students for the promotion of the hygiene and sanitation practices by providing hygiene cum medical kit in tribal schools. They are provided with an authority of collecting Rs 1 from the students of the school and with it they purchase the soap, and other maintenance materials of the kit. They are selected on rotation basis. The students who portray good role as Little Doctor, are awarded separately. It motivates the students for the promotion of the sanitation cleanliness within the school and outside as well. The Little Doctor attends the Gram Panchayat meetings and ensures the hygiene and sanitation of the village as pressure groups. They also go door to door for counselling of the people to stop open defecation, hygiene promotion and hand wash practices. This concept was appreciated abroad and replicated. This contributed to achieve Nirmal Gram Award by the President of India for the state."
Yudhistir Das, New Delhi
"In ISKCON cleanliness - internal and external - is stressed equally. To this effect, apart from cleaning the temples twice daily we also actively work with the local community stakeholders to keep the community clean and pleasant. Apart from the regular clean up, devotees of ISKCON - young, old, men, women, all come together regularly to clean important places of pilgrimage such as Vrindavan, Mayapur, Pandarpur, Puri, among the others. Our saints and scriptures have taught us that by these cleaning one not only purifies the external surroundings but also simultaneously cleans his internal consciousness as well. That's the reason devotees of ISKCON, from India and abroad, regularly come together to clean these places. Recently, the students of our school in Vrindavan themselves came up with a desire to go early in the morning to the banks of the sacred Yamuna and clean it before the pilgrims start coming by. They wanted these pilgrims to have a peaceful and pleasant experience. Their sincerity touched the passer by who also joined in spontaneously."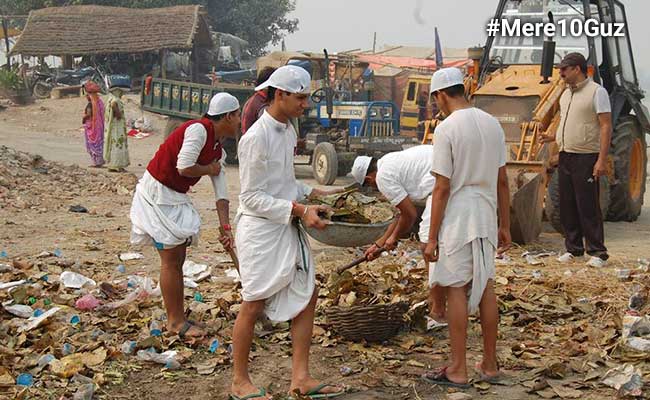 Abhishek Gupta, New Delhi
"As an inspiration towards Swachh Bharat, we have invented a new technology called Green Waste Reprocessor which reprocesses all Organic Waste (green, food/vegetable and temple waste) and convert it into organic compost and fuel sticks. Organic compost can be used in farming and fuel sticks are an alternative to LPG Cylinders and are smokeless therefore reducing pollution. We have it currently installed at Central Ordnance Depot, Delhi Cantonment Area and in Rose Garden, Faridabad converting 1.5 ton of waste every day."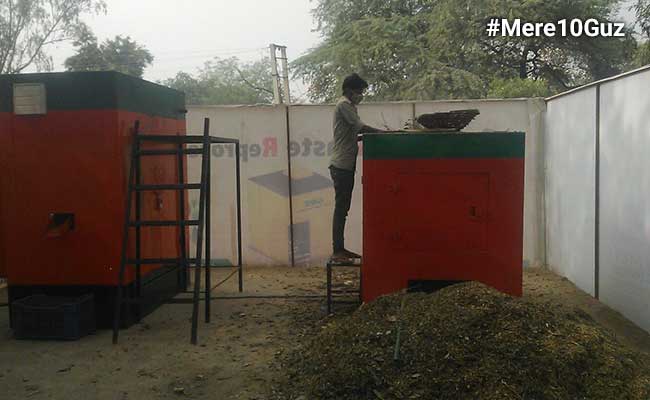 Dr.Shashi Swaran Singh, Chennai, Tamil Nadu
"Jaigopal Garodia Govt. Girls' Higher Secondary School in Virugambakkam, is the second biggest school among the Government schools in Chennai. The School takes pride in associating with Swatchh India campaign and it is known for its clean, green and very pleasing ambience. This transformation has happened because of the Swatchh Vidyalaya campaign taken by the school with lot of interest and involvement. As the students are agents of change, they are motivated not to litter the school campus, keep the class rooms clean and tidy, maintain personal hygiene and take home the message to their surroundings. The teachers are role models to them. Because of the good co-operation and co-ordination among the students, teachers, the headmistress and the community, the school is known as one of the cleanest schools of Chennai. We pledge to continue our efforts to make India Swatchh India. Together we can."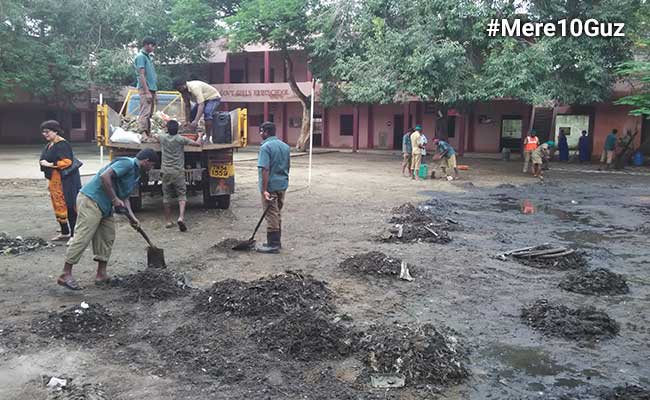 Roshan Zalke, Nagpur, Maharashtra
"My colleagues and I have pledge to contribute 100 hours in the year 2016 towards Swachh Bharat Mission. A handful of us started this journey from the most happening place in Nagpur "Futala Lake". Proud to be a part of this abhiyan."
Ashwani Chopra, Faridabad, Haryana
"We as a family have adopted a school in Faridabad and cleaned up the school completely and doing it on a daily basis."