This year, apart from chanting the traditional Ganpati bappa morya, agle baras tu jaldi aa!, people in India chose a special eco-friendly message – Clean Ganpati, Green Ganpati in a bid to save the already polluted bodies water from the hazardous impact of idol immersion. From opting for eco-friendly Ganesh idols that turn into a plant after visarjan to Ganpati idols made from cow dung that serves as food for fishes to idols made from clay or recycled paper, this year, India opted for unique and green idols that dissolve in water without polluting it with toxins.
Also Read: Ganesh Chaturthi Special: How Idol Immersion Adversely Impacts The Environment
Mumbai – The City Of Siddhi Vinayak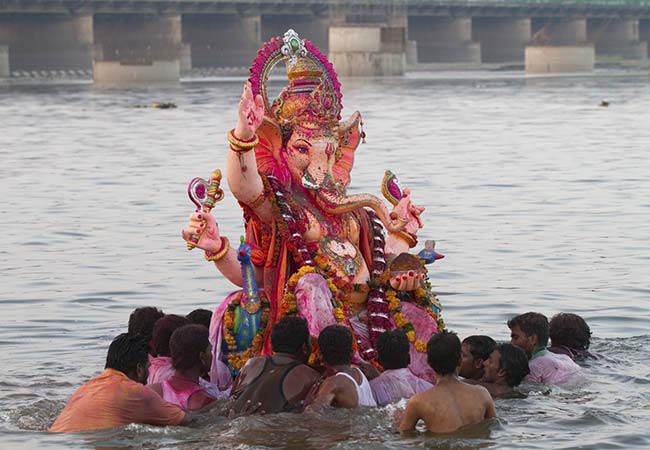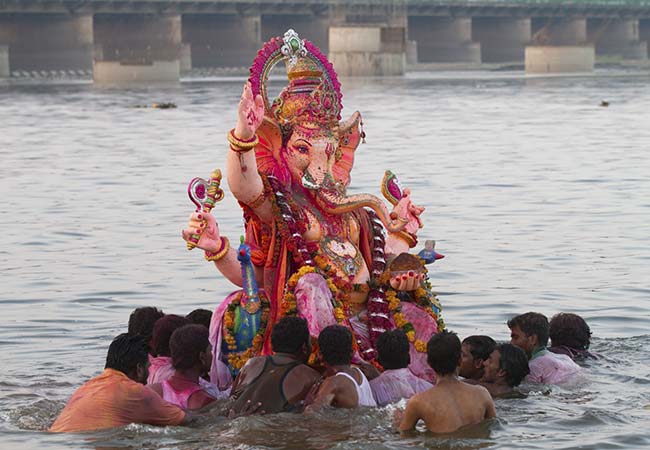 Last year, in Mumbai more than 3 lakh Ganpati idols were immersed into the water bodies of the city, causing a disastrous impact on the environment and the marine life. This year, the city saw many alternatives, environment-friendly options for idols.
One of the most common Ganesh idols that were there in the city were idols made from cow dung and recycled paper that preserved not just the tradition of immersion but also the environment. Ganpati idols made from cow dung were being provided to Mumbaikars by a resident of Nerul, Nilesh Tupe. The specialty of these cow dung made Ganesha idols is that when they are immersed in water bodies, they produce oxygen and manure and serve as a food for marine life rather than harming them like conventional idols made from Plaster of Paris.
Also Read: Ganpati Bappa Morya! This Ganesh Chaturthi Mumbaikars Go Green With Eco-Friendly Ganpati Idols Made Of Cow Dung
Speaking about the idols made from recycled paper, which was sold by a local Mumbai artist Rahul Vaste, on immersion these paper idols do not leave sludge behind like the traditional idols made from Plaster of Paris and dissolve easily within 5-6 hours. The only residue these idols leave behind is paper pulp, which can easily be collected later by the authorities.
Along with eco-friendly idol alternatives, there are hundreds of Beach Soldiers guarding the famous beach of the city – Versova with the famous beach cleanup man – Afroz Shah. Together, the volunteers will collect the Ganpati idols from the immersion points at Versova and also collect the flower, plastic waste that lands up on the beach during the celebrations, in order to maintain the cleanest beach tag.
Also Read: Ganesh Chaturthi 2017: Afroz Shah And 200 Volunteers Gear Up To Keep Versova Beach Swachh During Ganpati Festival
From Mumbai To Pune
To boost 'Go-Green' initiative and ensure Ganesh Chaturthi 2017 celebrations are done in harmony with the environment, Pune Municipal Corporation (PMC) trained around 5,000 students in making eco-friendly Ganesh idols as part of the 125th year of Ganeshotsav celebrations in the city.
Another major initiative taken is by the Solid Waste Collection and Handling (SWaCH) cooperative, that includes nearly 2,800 ragpickers who will man 16 ghats of the city to prevent people from indiscriminately discarding waste during idol immersion and save Pune's Mula-Mutha River.
Also Read: Citizens Of Pune Hope To Save Mula-Mutha River From Idol Immersion Impact
Steps Taken By The City Of Nawabs – Hyderabad
This time, the Hyderabad Metropolitan Development Authority (HMDA) distributed 30,000 clay Ganesh idols of 8-inch size each. Even, Municipal Administration and Urban Development Minister K Taraka Rama Rao undertook the task of promoting eco-friendly Ganesha idols by distributing over 2 lakh clay Ganesh idols for the festival. So, in total the total distribution of eco-friendly idols is about 2 lakh 30 thousand.
The GHMC has also come up with the idea of building immersion tanks in a bid to reduce water pollution and divert the immersions from the Hussain Sagar Lake. Last year, the civic body constructed 10 such immersion ponds and this year they build another 15 ponds.
Ganesh Mahotsav In India's Tech Hub – Bengaluru
While Mumbai promoted Ganpati idols made from cow dung, in Bengaluru, idols that can grow into the plant after visarjan became extremely popular. Sasya Ganapathi is one such activity that's gained momentum in the city. It was started by 4 friends who were passionate about conserving environment and planting trees, Sasya Ganapathi was basically a green puja kit that contained one Ganpati idol made from natural clay, potting mix and organic fertilizer and is painted in organic colours, a terracotta non-fading coloured pot made with plastic, nutrient block that expands into growing soil and an organic seeds packet (Tomato/ bendi / Tulsi any one will be available in the kit) that helps people grow a plant as they do visarjan.
To do immersion at home, the Sasya Ganapathi way, first fill water in the pot which is provided in the kit, then immerse the idol in that water followed by adding the nutrient block which acts as a growing soil. Leave it for a day and come to it the next day, by then the soil will expand and cover the whole pot. After that, just add the seeds that have been provided in the kit. Voila! Soon, your Ganesha will be turned into a plant.
The kit was launched for the first time in Bengaluru and aimed to make people aware of the fact that they should stop the age-old tradition of idol immersions into the water bodies and instead opt for idol immersion at home.
Know More: Eco-Friendly Ganesh Chaturthi: Ganapati Idols That Grow Into Plants After Immersion
Bollywood Actors Too Joined The Green Ganpati Crusade
Like every year, Actor Riteish Deshmukh posted a DIY video on Twitter showing the world how to make an eco-friendly Ganpati idol from scratch at home. The 38-year-old actor made a creative Ganpati idol from clay with a planter attached to it.
Riteish dedicated his this years' Ganpati Idol creativity to the farmers of the country, and said, "Celebrating Ganesh Chaturthi in America, Made an idol, I humbly dedicate it to our farmers."
Celebrating #GaneshChaturthi in America, Made an idol, I humbly dedicate it to our Farmers. #ECO #Planter #Visarjan #SonOfAFarmer #Bappa pic.twitter.com/OnuU1S0D6a

— Riteish Deshmukh (@Riteishd) August 27, 2017
Riteish Deshmukh was not alone to promote a 'Go Green' concept on Ganesh Chaturthi, actors like Raveena Tandon, Juhi Chawla joined this Green Ganpati crusade this year.
Photographer Dabbo Ratnani, opted for a Green Ganpati idol, making an eco-friendly impact on people.
Ganpati Bappa Morya ????????❤️Eco Friendly Ganesha Made By @MyrahRatnani ????????‍???? @ManishaDRatnani @KiaraRatnani @ShivaanRatnani #GaneshChathurthi pic.twitter.com/xJSwB8yfES

— Dabboo Ratnani (@DabbooRatnani) August 25, 2017
Some major steps have been taken to celebrate Ganesh Chaturthi this year in an eco-friendly way by authorities and citizens. Now, the only way to sustain these efforts in order to save the planet and meet the goal of Clean India by 2019 is by going green in all the huge occasions and festivals.