New Delhi: 100 million marine mammals are killed each year from plastic pollution. Biggest culprit being the single-use plastic – straws, polythene bags, plastic bottles, plastic cups that are discarded after just one-time use. India generates 5.6 million tonnes of plastic waste annually, and the country alone is responsible for dumping 60% of plastic waste into the world's oceans every year. A 2017 study published in Environmental Science & Technology, a global journal stated that three of the world's ten rivers which carry 90% of plastic to the world's oceans are in India – the Indus, the Ganga, and the Brahmaputra.
Plastic currently is chocking the planet and strangling our fragile, interlinked ecosystem.
Also Read: When A Whale Dies From Eating Plastic Bags
Chocked To Death On Our Waste
A photo of a dead albatross chick with plastic marine debris in its stomach was taken by Artist Chris Jordan who has been documenting dead albatross at Midway Atoll in the Pacific Ocean since 2009.
Starved To Death, Thanks To Plastic
This beached juvenile Sperm #Whale was found off the coast of #Spain. If it looks emaciated, it's because it starved to death. In its stomach was 64 lbs of #plastic, causing an infection. Our #Oceans are drowning in a sea of plastic. We need to break our addiction. pic.twitter.com/oICIlyGHJw

— Daniel Schneider (@BiologistDan) April 7, 2018
Recently, a picture of a sperm whale made rounds of internet showing the plight of the largest of the toothed whales, which was starved to death after choking on 29 kilos of plastic debris. The autopsy report found plastic bags, nets, plastic sacks, ropes, etc in the whale's stomach and intestines.
A Male Turtle From Costa Rica Struggling For Life With Plastic Straw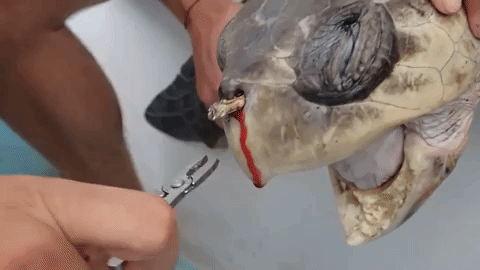 That's a male turtle from Costa Rica that struggled for life with a 10-12 cm plastic straw stuck in its left nostril in 2015. Thankfully, then a team of scientists saved his life. But for how long?
Today, when the plastic pollution is on a continuous rise, how long will this second chance be for the turtle? Annually, 30% of the turtles lose their life to plastic pollution.
A Photo That Shows All That Is Going Wrong With Our Planet VS Plastic
https://www.instagram.com/p/BY8iyqxHx4r/?utm_source=ig_embed
Also Read: Trending: This Nature Photographer's Seahorse Click Shows All That Is Going Wrong With Our Planet
This photo by 33-year-old California-based nature photographer Justin Hofman summarises the condition of our oceans today. It shows a tiny orange seahorse clinging on to a pink plastic cotton swab in blue-green waters around Indonesia.
Death By Plastic!
In January, this year, an elephant died near Sabarimala, Kerala after consuming plastic thereby highlighting the risk that indiscriminate dumping of plastic and its intrusion into the food chain can have an impact on all forms of life.